Re: Distilled water with chlorine dioxide by fungihomeworld ..... Morgellons Disease Forum
Date: 2/25/2011 4:39:07 PM ( 7 years ago ago)
Hits: 4,041
URL: https://www.curezone.org/forums/fm.asp?i=1775922

I suspect that the Miracle-Mineral-Supplement /ClO2 is accelerating
the fungal growth.

If I am right..in a few more days I should be able
to harvest a mycelial goo ball from the Miracle-Mineral-Supplement treated water.

I expect that the control [untreated distiller water]
will also have some
growth in the fibers that were in the distilled
water to begin with..but their growth will be
far less than the amount of fungus I expect to
find in the Miracle-Mineral-Supplement treated sample.

This would match what I have observed happening
in the MMS treated countertop water filters.
[PUR/BRITA] The MMS did not stop the growth
of fibers and fungus mats in the filters or
the "clean water" container..it seemed to be
feeding them. Near microscopic fibers growing
long enough to burrow out the bottom of the filters
in a few weeks. [10-15-20 mm] Fungal mats growing
in the clean water side of the filter tank as well.

..I have a tap water sample in a sealed flask..from 8 sep 2010. Most of the fibers in that are less than 5 mm..with a few ambitious fibers that might be pushing toward
10mm...this is FAR slower growth than what I was
seeing in the MMS treated tap water being "filtered"
by the BRITA/PUR cartridges.

** I find it a bit odd that there is such explosive
growth of fungus in the leftover distiller boiler
water. One would think that 5 hours or so in boiling
water would discourage most lifeforms. This is not
the case with the tap water fungus. It seems to
LIKE being boiled...as evidenced by how fast a
gunk ball of mycelium forms..starts up in a matter of
a few days...[boiler water sample from 15 feb has
a chunky fungus ball growing in it already]

*******************
...pic of a small "raft" of particles
already formed in the MMS water..one of several such
structures.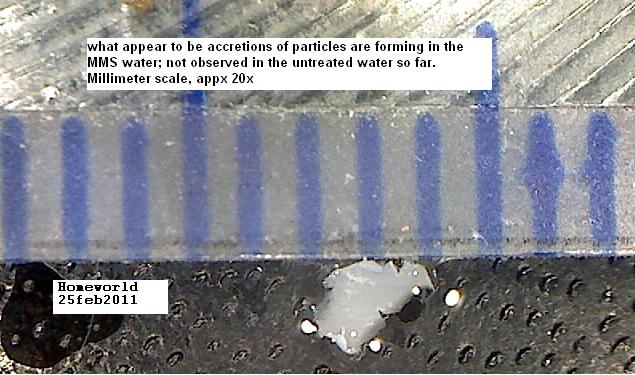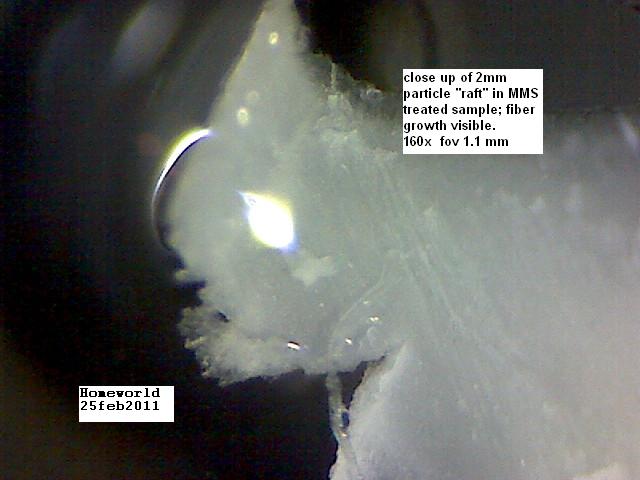 << Return to the standard message view
fetched in 0.06 sec, referred by www.curezone.org/forums/fmp.asp?i=1775922