Telman's 19th Liver Flush by telman ..... Liver Flush Support Forum
Date: 2/16/2006 3:36:35 AM ( 15 years ago ago)
Hits: 2,394
URL: https://www.curezone.org/forums/fm.asp?i=175618

1 readers agree with this message. Hide votes What is this?

Telman's 19th Liver Flush

This flush was performed on the 14th and 15th of February 2006; a St Valentines Day Flush. In the afternoon I went to the gymnasium and exercised for 2hrs to increase my metabolism. I took the full dose of Epsom Salts at 6 and 8 pm. The flushing potion was produced by squeezing 4 fluid ounces of freshly squeezed lemon juice into a jar and adding to this a teaspoon of freshly grated ginger and another of freshly grated dandelion root. The concoction was mixed well after which was added 4 fluid ounces of olive oil. The jar lid was then secured and the potion left until it was need. Two of the potions were made. The first potion was consumed at 10.00pm and I laid on my back feeling after 20 minutes the sensation of stones moving down the biliary duct. I consumed the second immediately after retiring to bed at 11.20pm. I went to sleep straight away and awoke at 07.40am the next morning.

At 9.00am the following day I had my usual first albeit very soft bowel movement and later, throughout the morning I expelled about some green stones up to 1 cm in size and some smaller stones and hepatic debris. The stones are sandy or dark green and solid.

At 10.00pm in the evening of the second day 30 minutes after eating an apple I had a biliary colic attack; very acute onset and extremely intense. I took a tablespoon of Epson salts in a cup of warm water immediately and as it was late I went to bed. I found the most comfortable position on my right side and drifted in and out of sleep until about 12.00 midnight when I noticed that the pain was gone and I then slept without interruption until the morning. I suppose we have to deal with these emergencies when we are flushing with a very congested gallbladder full of biliary sludge. It reminded me of what I had to endure on a regular basis before I commence liver flushing. My main thought about this little test of resolve was did the blockage causing the pain come out or go back in?

My bowel movement on the morning of the third day revealed about a tablespoon of chaff which was the remnant of the flush but no signs of anything from the previous evening when I suffered the biliary colic attack.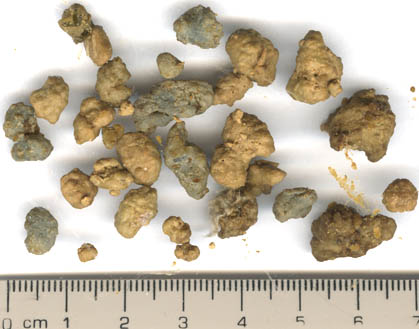 << Return to the standard message view
fetched in 0.06 sec, referred by www.curezone.org/forums/fmp.asp?i=175618