Telman's 18th Flush by telman ..... Liver Flush Support Forum
Date: 1/26/2006 4:32:07 AM ( 14 years ago ago)
Hits: 4,191
URL: https://www.curezone.org/forums/fm.asp?i=174279

Hi All

Just keeping you informed about my progress.

My 18th Liver Flush was performed on 24th/25th January 2006, 3 weeks after the previous one. Epsom Salts were taken at 6.00pm and 8.00pm. I prepared a potion consisting of 8 fluid ounces of fresh lemon juice which was put in a blender with 4 ounces of fresh ginger root and two teaspoons of turmeric. This was liquidised and then strained through a nylon sieve. This resulting mixture was poured equally into two jars. Into each jar I pored 4 fluid ounces of olive oil and the lids of the jars secured. At 10.00pm one of the jars containing the potion was shaken violently to produce a fine emulsion and drank immediate. Afterwards I lay-out in the sitting room 30 minutes watching a bit of TV. At 12.00pm midnight I retired to bed and just before I got between the covers I consumed the second potion in the manner as the first. I lay on my back for 30 minutes and must have fallen to sleep because when I awoke it was 8.30am. I immediate arose and took some Epson salts and an hour later started drinking lots of fluid.

I included the ginger root and turmeric in the potion because I have read that they have a beneficial effect on the biliary system. They both increase the flow of bile by amplifying the gall bladder reflex and ginger is also important in reducing nausea which can be associated with consuming the olive oil potion. Official sources warn against taking both these herbs if one suffers from gall stones because they increase bile secretion but this warning can be ignored as part of a flushing protocol.

I really wanted to use Dandelion root because following results of clinical and laboratory research, reported in Hobbs (1985) it doubles the bile output with leaf extracts, and a quadruples the bile output with root extract. As a side issue a reduction in serum cholesterol and urine bilirubin levels by as much as half in humans with severe liver imbalances has been demonstrated by Italian researchers.

I found the two potions remarkably easy to drink and had no indigestion at all so maybe the herbs were doing their work but it difficult to tell on the evidence of one flush.

My first bowel movement was at 9.00am followed by the usual multiple visits up to lunch time as the Epson salts worked its way through. I passed around a dozen small stones one 1 cm in size and nothing in the way of other debris. I am very pleased that, fingers crossed, I may be getting clear and can go onto the maintenance programme but later at 17.30pm, as the second dose of Epsom Salts became productive, I passed a great deal of small hard stones. They were mostly 2 to 3 mm in size with a few larger ones thrown in and amounted to about 2 tablespoons capacity.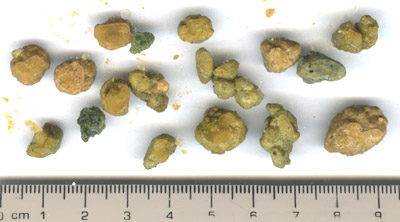 Stone count

3 Green stones greater than 1cm
15 green stones greater then 0.5cm
2 tablespoons of chaff and small stones





<< Return to the standard message view
fetched in 0.05 sec, referred by www.curezone.org/forums/fmp.asp?i=174279