Somebody Asked The Master Bokuju: 'WE HAVE TO DRESS AND EAT EVERY DAY -- HOW DO WE GET OUT OF ALL THAT?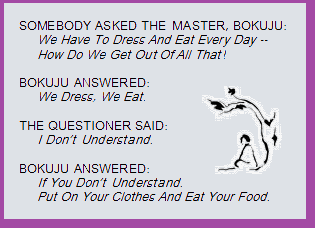 One has to look at what lay behind the asking of this question: It implies that the questioner is somewhat bored with the repetition of doing the same thing over & over & over again & again & again, continuously - ad nauseam.
We Have To Dress And Eat Every Day -- How Do We Get Out Of All That?
Only idiots and sages are never bored, otherwise intelligent people are bound to get fed up. What is going on? Every day you go to sleep, just to get up again in the morning. And then the breakfast, and then the going to the office, and the this and the that. And you know you are doing all this to go to sleep again, and you know well that in the morning again the same routine will start. One starts feeling robot-like.
And if you become aware, as in India where people have become aware in the past, that this has been going on for millions of lives, you are bound to feel completely bored to death.
That's why the question: "How Do We Get Out Of All That?" This wheel of life and death goes on, grinding and grinding and grinding, and, just like a broken gramophone record, the same line goes on repeating. This has happened to you millions of times. You fell in love, you got married, you worked hard, you gave birth to children, you struggled, you died. Again, and again, and again, and it goes on ad nauseum. That's why, becoming aware of this phenomenon of continuous rebirth, India became bored; the whole consciousness became so fed up that the whole effort became 'how to get out of it?'
That's what that man had come to ask Bokuju: Help me get out of it. It is too much and I don't know from where to escape. Getting dressed, and eating every day -- how to get out of this dead routine, this rut?
Says Bokuju: We dress, we eat. He says many things. He says that there is nobody to get out, so, if there is nobody, how can you get bored? Who will get bored?
What Bokuju is saying is this: It is better not to create a problem because we have not known anybody to solve any problems, ever. Once created, problems cannot be solved. Don't create them, that is the only way to solve them. Because once created, in the very creation you have taken a false step. Now, whatsoever you do, that false step won't allow you to solve it. If you ask how to drop the ego you have created a problem which cannot be solved.
Thousands of teachers exist who go on teaching you how to solve it, how to be humble and how not to be an egoist. Nothing happens -- in your humility also, you remain egoists; in your egolessness also, you carry a subtle ego. No. Those who know will not help you to solve any problems. They will simply ask where the ego is. They will ask where, in fact, the problem is. They will help you to understand the problem, not to solve it, because the problem is false.
The answer cannot be right if the question is wrong. If the very question is rooted in something wrong, then all answers given will be futile and they will lead you to more false questions. It will become a vicious circle -- that's how philosophers become mad. Not looking at the wrongness of the question they create an answer; and then the answer creates more questions. No answer solves anything.
Then what is to be done? What does Zen say? Zen says: Look at the problem itself, there the answer is hidden. Look at the question deeply, and if the look is perfect, the question disappears. No question is ever answered, it simply disappears; and, when it disappears, it disappears without a trace.
He is saying: Where is the problem? We also eat, we also dress, but we simply eat and dress. Why create a problem? Bokuju is saying: Accept life as it is. Don't create problems.
Had the questioner asked the same thing to Buddha, the answer would not have been the same. The answer would have come from the seed-mind. Buddha would have said: All is illusory -- eating, dressing, everything is illusory. Become more aware. See the illusoriness and dreaminess of the world. All is MAYA. Become more aware and don't try to find how to get out of it, because how can one get out of a dream? One simply becomes aware and one is out.
Have you seen anybody ever getting out of a dream? A dream is unreal, how can you get out of it? The miracle is that you have entered it in the first place -- because it is not there and you entered it! And now you are creating more trouble for yourself by asking how to get out of it.
How did you enter the dream? By believing that it was real. That is the way one enters a dream -- by believing that it is real. So simply drop the belief, and see that it is not real, then you are out of the dream -- drop out of believing that it is real. So simply drop the belief, and see that it is not real, then you are out of the dream. There are no steps to get out, no techniques to get out, no methods. Buddha would have said: "Look, your whole life is a dream -- and you would have been out of it."
If the Chinese genius Confucius had been asked -- the balanced mind which is neither extrovert nor introvert -- he would have said: There is no need to get out of it. Follow these rules and you will be able to enjoy it. Confucius would have given a few rules: those rules have to be followed, that's all. One need not get out of it. One simply has to plan his life in a right way. One even has to plan the life of dream in a right way! Confucius says that even if in your dream you commit something wrong, you have to ponder over it -- somewhere in your waking hours you are not following the right path. Otherwise, how can you go wrong in the dream? Settle something, balance something -- that's why he had 3,300 rules.
But in Japan there would have been a totally different answer: with Buddha the answer would have come from the seed, with Confucius from the tree -- from Bokuju it comes from the flower. Of course these are different answers -- rooted in the same truth, but not using the same symbols, they cannot. What Bokuju says is simply flower-like, it is the most perfect possibility.
BOKUJU ANSWERED:
We Dress, We Eat.
Such a simple answer -- and there is every possibility to miss. You may think: What is he saying? It looks like gibberish, nonsense. The man asked: "We have to dress and eat everyday -- how do we get out of all that?" And Bokuju answered: "We dress, we eat."
What is Bokuju saying, what is he indicating? A very subtle indication. He is saying:
"We also do it -- we eat, we dress -- but we eat so totally that the eater doesn't exist, there is only eating.
We dress so totally that the dresser doesn't come into being, but only dressing. We walk, but there is no walker,
just the walking. So who is this asking to get out of it?
We eat, and we dress, and we have never found any problem, and we have never found anybody who can come out.
There is nobody that is there inside. Eating exists, dressing exists, ego does not.
Look at the vast difference. Buddha would have said that all this is a dream, your eating, your dressing, your walking -- and Bokuju says that you are a dream. Tremendous difference.
Bokuju is saying: Do not bring yourself in, simply eat and walk and sleep. Who is this asking to get out of it? Drop this ego; it is non-existential, and when you are not, how can you come out of it? Not that walking is a dream, but the walker is the dream. Not that eating is a dream, but the eater.
And watch minutely -- if you really are walking, is there any walker inside? Walking happens, it is a process. Legs move, hands move, you breathe more, the wind blows in your face, you enjoy; the faster you go, the more vitality you feel -- everything is beautiful. But is there really a walker? Is there somebody sitting inside, or does just the process exist? If you become aware, you will find only the process exists. The ego is illusory: it is just a mind-creation. You eat, and you think there must be somebody who eats, because logic says: How can you walk without a walker inside? How can you eat without an eater being there?
You meditate, but is there any meditator? And when meditation comes to a flowering, and all thoughts cease, who is there inside? Is there somebody who says that all thoughts have ceased? If that is there, then still the meditation has not flowered; at least one thought is still there. When meditation flowers there is simply nobody to take note of it, nobody to give it recognition, nobody to say: Yes, it has happened. The moment you say: Yes, it has happened -- it is already lost.
When there is really meditation, a silence pervades; without any bounds a bliss throbs; without any boundaries there is a harmony; there is nobody to take note. There is nobody to say: "Yes, this has happened." That's why the Upanishads say that when a person says: "I have realized!" Know well that he has not. That's why all the Buddhas have said that whenever somebody claims, the very claim shows that he has not reached the final peak because at the final peak the claimer disappears. In fact, it has never been there. Eating is not a dream -- the eater is the dream.
The Grass Grows By Itself
Talks on Zen
Talks given from 21/02/75 am to 28/02/75 am
English Discourse series
Year published: 1976
Chapter Title: The Significance of Zen