"Men stumble over the truth from time to time, but most pick themselves up and hurry off as if nothing happened." -Winston Churchill-
It will make me happy to see ONE parent post that they have invested in a reverse-osmosis system or water distiller. That's just the beginning though, fluoride is found in bottled juices, soft drinks, sulfuryl fluoride is used to fumigate foodstuffs, it's endless. Ensuring that YOUR water is fluoride-free is a very important step, though, please take that step! Children, especially, are very susceptible to fluoride poisoning:
http://www.ecomall.com/greenshopping/fluoride.htm
"The US Public Health Service estimates that 1 in 5 children have dental fluorosis. (By the way, all native reservations in the US have mandatory fluoridation, resulting in very high incidents of dental fluorosis in those areas.) Realistic figures are as high as 80% in some areas in the US and as high as 69% in Canada. Studies have been conducted directly linking bone tissue damage to children with dental fluorosis. Fluorosis is the first visible sign that destructive effects of fluoride are also occurring in bone, connective tissue, immune and enzyme functions."
http://www.debrahopkins.com/open.htm
"The addition of fluoride to water violates modern pharmacological principles and medical ethics. There is no accounting for individual physiological responses to this chemical, differences in body size (children receive the same amount as adults) and the fact that water consumption varies from person to person. There is no way to monitor fluoride intake from other sources."
http://sonic.net/kryptox/press/guardian.htm
"Amid all the claim and counter-claim about fluoride, there are some indisputable facts. The first is that, of all the fluoride taken into the body, about 50 per cent is excreted. The rest remains. In its major 1993 report, Health Effects Of Ingested Fluoride, the US National Research Council (NRC) pointed out that, `Half the fluoride [taken in by the body] becomes associated with teeth and bones within 24 hours of ingestion. In growing children, even more of the fluoride is retained."
http://www.apfn.org/THEWINDS/1998/01/fluoridation.html
"Of even more ominous portent, Hirzy said, is that, far from being merely cosmetic in effect, "what's going on in the teeth is a window to what's going on in the bones. What fluoride does in the hydroxy-epitite structure in teeth it does to the same structure in bone. It is well known now that fluoride produces faulty bone, more brittle, basically mimicking in the bone what is clearly visible in the teeth." A kind of artificial osteoporosis."
LIE~
http://www.animated-teeth.com/tooth_decay/t4_tooth_decay_fluoride.htm
Researchers have discovered that fluoride enhances the tooth remineralization process. Fluoride found in a person's saliva will adsorb onto the surface of a tooth where demineralization (tooth decay formation) has occurred. The presence of this fluoride then in turn actually attracts other minerals (such as calcium), thus helping to speed up the rate or degree to which remineralization (reformation of tooth mineral) will occur.
TRUTH ~
http://nov55.com/fld.html
Do you know why there is fluoride in toothpaste and water supplies? The reason is because dentists recommend it.
Evidence is accumulating in
Science
to indicate that fluoride softens bones and teeth. There is a scientific logic to explain why. Calcium, the primary hardener for bones and teeth, can form two bonds with carbonate or oxygen to create chains. Fluoride can only create one bond. So if fluoride combines with calcium, it breaks the chain.
~~~~~~~~~~~~~~~~~~~~~~~~~~~~~~~~~~~~~~~~~~~~~~~~~~~~~~~~~~~~~~~~~~~~~~~~~~~~~~~~~~~~~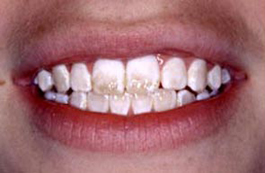 http://fluoridealert.org/news/2728.html
"First of all, most Americans have no idea what dental fluorosis is. They don't know that it manifests as white, yellow, or brown streaks or stains, and in some cases, as pits, on teeth of children who are exposed to too much fluoride while their permanent teeth are being formed. They don't know that this is an outer biomarker of an inner poisoning that has happened, akin to the bluish line appearing on the gums of lead-poisoned people. We're not being told that fluorosis affects 32% of all school kids and is NOT merely a "cosmetic defect." The moderate and severe forms of the condition now affect around two percent of whites and three to four percent of blacks and Mexican Americans, according to quietly-published statistics from the Centers for Disease Control. In fact, the National Research Council's report called severe dental fluorosis an adverse health effect. If you've never seen the disturbing photos of fluorosis, visit
http://www.fluoridealert.org/dental-fluorosis.htm
. Brace yourself. Moderate and severe fluorosis is not pretty."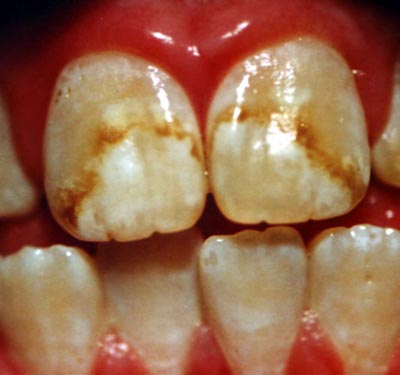 ~~~~~~~~~~~~~~~~~~~~~~~~~~~~~~~~~~~~~~~~~~~~~~~~~~~~~~~~~~~~~~~~~~~~~~~~~~~~~~~~~~~~~
a DENTIST sees the light:
http://www.debrahopkins.com/open.htm
"I have been a dentist for almost 25 years. Upon my graduation from dental school, I, like most of my colleagues, was an avid supporter of water fluoridation. I supported fluoridation because organizations like the American Dental Association endorsed it as a "safe and effective" means of preventing tooth decay in children. I assumed that they had commissioned studies to offer proof of this claim. To my surprise, this turned out to be a totally erroneous assumption on my part...
...It has been approximately 10 years since the city of Tacoma began to fluoridate its water. I have examined children and adults drinking this water during that time. What I have seen has made me question the use of fluoride. I have noticed no discernible decrease in decay in children or adults. My practice has not noticed a decrease in the number of fillings that I am placing because of decay. But what I have noticed is that there has been an increase in fluorosis in children, white or brown spots on the teeth indicating that children are being overdosed with fluoride. These fluorosed teeth were actually more susceptible to decay. This prompted me to begin studying the issue. What I found was very little scientific literature supporting that fluoride decreases tooth decay, let alone research that proved it was safe. On the other hand, I found a great deal of scientific literature that raised some red flags in my mind regarding its safety...
...The addition of fluoride to water violates modern pharmacological principles and medical ethics. There is no accounting for individual physiological responses to this chemical, differences in body size (children receive the same amount as adults) and the fact that water consumption varies from person to person. There is no way to monitor fluoride intake from other sources."
~~~~~~~~~~~~~~~~~~~~~~~~~~~~~~~~~~~~~~~~~~~~~~~~~~~~~~~~~~~~~~~~~~~~~~~~~~~~~~~~~~~~~
http://www.ecomall.com/greenshopping/fluoride.htm
How can my dentist say that it's good for my teeth?
"By receiving limited training on the subject and being misinformed on purpose by the ADA and CDA. Figures in ADA pamphlets contain an incredible amount of untruths, and outright fraudulent claims. If you check the references cited and numbers listed in your local libraries, you will undoubtedly come to the same conclusion. Some fluoridation endorsements are listed which prove fraudulent when checked. Most dentists never bother to take the time to study both sides of the fluoride issue. Consider this statement by the ADA in 1979: "Individual dentists must be convinced that they need not be familiar with scientific reports and field investigations on fluoridation to be effective participants and that non-participation is overt neglect of personal responsibility." There are NO reliable studies, conducted under ethical research guidelines, which prove the benefits of fluoride supplementation. The FDA admits to this! There are more than 500 peer-reviewed studies documenting the adverse effects.Furthermore, dentists make higher profits in fluoridated areas and through fluoride use. As a result of mottled enamel, many more restorative measures are necessary, such as braces, bridges, etc. For the ADA/CDA, this condition is a real money-maker, because cosmetic dentistry is far more lucrative than cavity repair. In addition, there is an abundance of evidence in the scientific literature indicating that fluoride causes a delay in the normal shedding of the "baby" teeth, and their replacement by permanent teeth. This delay has been shown to increase the number of children with malpositioned teeth. Again, braces are far more expensive than fillings.(Note: In a 1972 report by the American Dental Association, it is stated that dentists make 17% more profit in fluoridated areas as opposed to non-fluoridated areas.)(Douglas et al., "Impact of water fluoridation on dental practices and dental manpower", Journal of the American Dental Association;84:355-67, 1972)
In 1993 the National Academy of Sciences warned, "dental fluorosis...might be more than a cosmetic defect if enough fluorotic enamel is fractured and lost to cause pain, adversely affect food choices, compromise chewing efficiency, and require complex dental treatment."
The International Academy of Oral Medicine and Toxicology has classified fluoride as an unapproved dental medicament due to its high toxicity.
The FDA considers fluoride an unapproved new drug for which there is no proof of safety or effectiveness. The FDA does not consider fluoride an essential nutrient.
Four major studies involving 480,000 children (US, 39,000; Japan, 22,000; India, 400,000; Tucson, 29,000) comparing fluoridated and non-fluoridated areas showed no significant difference in decay rates. Proven is that a higher intake of fluoride will actually cause MORE cavities, especially for children with low dietary calcium intake."
http://www.fluoridealert.org/news/2160.html
"When I receive the fluoride here, it has a skull-and-bones on it," Regina Miskewitz says of containers of the chemical at the Princeton, N.J., laboratories of Church & Dwight Co. Inc., maker of Arm & Hammer products, where she is director of research and development for oral and personal care."
http://www.ecomall.com/greenshopping/fluoride.htm
"Studies show that adults can absorb up to 0.5 mg per "TV ribbon" brushing. Small children, even if pea-size amount is used, will still absorb the same, more if the child is younger and has less swallowing control skills. Half a tube of toothpaste can kill a child. Current content of sodium fluoride in toothpaste in Canada and the US is up to 0.4% = 4000 ppm (parts per million). Bubblegum-flavored dentifrice obviously is especially inviting for children. Since April 1997 all toothpaste in the US must carry a warning label, advising parents what to do if their child swallows more than the pea-size brushing amount. Wholesale containers carry the poison symbol of skull and crossbones."
http://www.ada.org/prof/resources/positions/statements/fluoride.asp
ADA Statement on FDA Toothpaste Warning Labels
"The American Dental Association's (ADA) Council on Scientific Affairs believes that one part of the warning now required on fluoride toothpastes by the Food and Drug Administration (FDA) could unnecessarily frighten parents and children, and that the label greatly overstates any demonstrated or potential danger posed by fluoride toothpastes.
The label language, "If you accidentally swallow more than used for brushing, seek professional help or contact a poison control center immediately" is now required on all fluoride toothpastes. But the ADA, in a letter sent to the FDA last year, pointed out that a child could not absorb enough fluoride from toothpaste to cause a serious problem and that the excellent safety record on fluoride toothpaste argues against any unnecessary regulation."