20th Flush
It is the 28th February and I would never have thought back in June of 2005 that I would still be flushing my gallbladder 9 month and a litre of
Gallstones
later. I visited the gymnasium in the afternoon and performed a good cardiovascular, weights a stretch routine for 1.5 hours to heighten my metabolism as this increases bile production. I took my potion; just one this time consisting of 5.5 fluid
ounces
of olive and 5.5 fluid
ounces
of lemon juice with a heaped teaspoon of ground turmeric and the juice from 4
ounces
of fresh ginger root. It was preceded by two separate doses of
Epsom Salts
as per the standard
Hulda Clark
Liver Flush
protocol. At 10.45 whilst lying in bed I felt the reflex contraction of my gallbladder after which I fell fast asleep until I awoke at 6.45 am the next morning. I consumed a dose of
Epsom Salts
at 7.30 am followed by another at 9.00am and at 10.00am I started drinking plenty of fluid.
I felt good the whole time; no nausea, reflux, indigestion or any negatives whatsoever. I had two bowel movements in the day, which yielded a surprisingly large number of stones of which some where quite large about 1
cm
in size. They were a mixture of green cholesterol
Gallstones
and what I call sandy coloured sludge gravel. These are shown in the first picture scan. The big surprise came on the morning of the third day because my bowel movement was pigmented red from a temporary imbalance in biliary functioning but also was an even larger amount of rancid biliary sludge which is illustrated in the lower scan.
I post this information in the belief that it may encourage others to start or keep flushing. I remember my early thoughts about liver cleansing; thinking that all I would need is just one large and "perfect" flush but I have learnt that it is a long road to regain health and vitality.
But has it cured me, I hear you ask, after all this is a curezone. The short answer is yes, as almost all the "Fibromyalgia type" symptoms I was suffering from have reduced significantly and my head is so much clearer now. However, I haven't finished flushing so there will undoubtedly be greater benefits in the pipeline.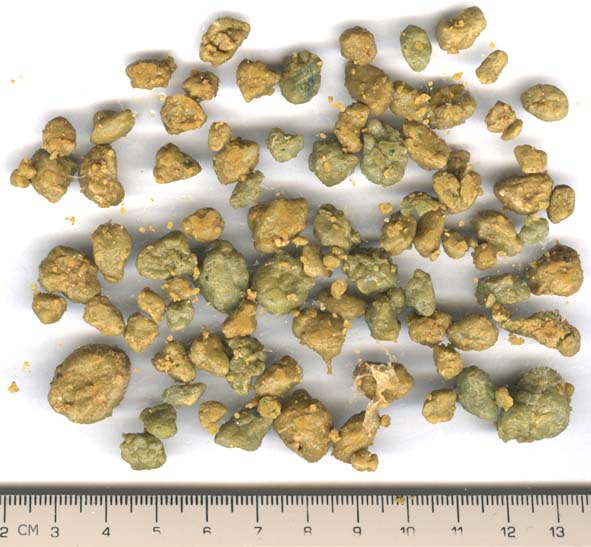 Telman