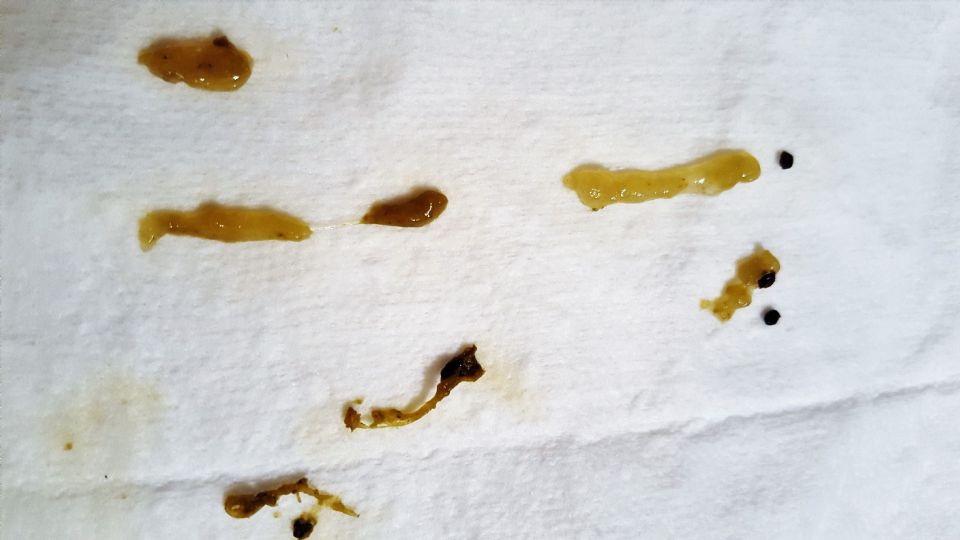 Hello
Can anyone help me find out what these are? I also, had 50+ black little things floating in the water.
Things started to get really bad 10months ago. It all started with hives, All the Doctors and Specialist I saw didn't know why I had them, but wanted to give me medicine ( that didn't really work) So I did my own research and start a good probiotic and in 3 days they where gone. However, I still have inflammation if you touch me.
A few weeks after, anything I would eat would feel like it would get stuck and I would have to throw up. So I went to a ENT, he scoped my nose and said, I have GERD. I went on a GERD diet, but still no help.
So I got a EDG scope down my throat. At first the Dr said, it looks like Celiac. The Dr said, take these 2 medication and we will wait to see what the samples say. "I didn't want to take medication, if I didn't need to so I wanted for the test samples" They came back normal, but he still told me to take the medication. "That just doesn't make much sense to me, why take something, if nothing is wrong" I went Gluten-free, Dairy Free,
Sugar
free. I have lost about 36 pounds. ( which is a good and bad thing)
I went to Every Dr and have had every test done, and they find "Nothing" The last Dr told me that it was "ALL in my head and that I need a anti- depressant. My fiance said, NO! you don't there is something going on inside your body. So I started to look into the natural ways.
I went to my Chiropractor. He said, why don't you call my friends at
"Energy Health and Wellness" in St. cloud. She does EDS screening.
"Electrodermal screening is a diagnostic method used in alternative medicine. By measuring the skin's electrical resistance, electrodermal screening is said to detect energy imbalances along meridians (invisible lines of energy flow in traditional Chinese medicine."
She found that I have "Parasites" and that many things in my body are Super stressed.
The EDS screening findings these are "ALL Stressed"
Lymphatics
Lung
Endocrine system
Heart
Small Intestine
Cellular Metabolism
Small Intestine
Liver
Stomach
Connective Tissues
Skin
Kidneys
Spleen
She said, that These are the
parasites
I tested for. *Dirofilaria immitis (Dog Heartworm) *Dracunculus medineds (Hookworm) *Amoeba-Entamoeba histolytics *Echinocococcus multilocularis *Toxocara (Cat roundworm)
She gave me Homeopathic Formula's
Hepstat : I was only able to take 2 drops. " Then my body didn't want it anymore, due to the EDS"
Is a homeopathic formula that supports detoxification of the liver. It may be helpful for the temporary relief dyspepsia,flatulence,exhaustion, nausea,as a consequence of constipation.
Taraxacum officinale 3x, Carduus marianus 3x, Beta vulgaris 3x, Fel tauri 6x, Cholesterinum 6x, Chelidonium majus 12x, Nux vomica 12x, Lycopodium clavatum 12x, Phosphorus 12x, Natrum sulphuricum 12x and distilled water. 20% ethanol.
Paracom : I was only able to use this on my wrist for 5 days, and ALL 5 days I was very sick in bed.
Fortifier for the intestines and colon.
Organic
Wormwood
(whole plant), Pink Root (root), BetelNut (seed), Cascara Sagrada (bark), Organic Senna (leaf), Organic Wood Betony (whole plant), Organic Pumpkin (seed),
Black-Walnut
(green hull), Organic Black Cohosh (root), Organic Clove (flower), Organic Garlic (bulb).
Distilled water, 25% etahanol.
Parastat : I have not been able to use this yet.
is a homeopathic remedy for the detoxification from various parasites. It provides temporary relief from itching of the anus, colic, bloating, pain and constipation
Artemisia vulgaris 3x, Spigelia anthelmintica 3x, Filix mas 3x, Cina maritima 3x, Sabadilla officinalis 3x, Terebinthinia oleum 12x, Sulphur 12x, Calcarea carbonica 12x, Baryta carbonica12x and distilled water. 20% ethanol
The second time I went to see her she gave me
Drainpar: I have not been able to use this.
Liver, lymph and Kidney support
INDICATIONS
For the sudden desire to urinate, lowered metabolism, cough, dry and croupy, abdominal bloating, constipation, alternating with diarrhea.
INGREDIENTS
Solidago Virgaurea 2x, 3x, Trifolium Pratense 2x, 3x, Propolis 2x, 3x, Lymph 6x, Liver 6x, Kidney 6x, Bryonia Alba 10x, Berberis Vulgaris 10x, Chelidonium Majus 10x, Ceanothus Americanus 10x, Nux Vomica 10x. Distilled Water, 20% Ethanol
Crisis Comfort : I took one drop and it gave me a side effect hours later.
May temporarily relieve minor symptoms of fear, panic, stress from trauma, and inability to cope with crisis.
Fringed Violet, Flos 30C, 200C; Grey Spider Flower, Flos 30C, 200C; Sundew, Flos 30C, 200C; Waratah, 30C, 200C.
I know and see that my body NEEDS these things, However, my body is so weak and sick, I get even sicker taking these Homeopathic formulas. Even the smallest amount (one drop). I even tried to put it on my wrist. I was in bed for 5 days. I'm a stay at home Mom of a 5yr. My fiance works and travels a lot. We live over an hour away from all of family and friends. I can't get rid of these things alone! I need help! I can't have my fiance take care of me, miss work, take care of our son, and everything at once. My son doesn't understand why I'm still sick after seeing so many Dr's and being sick for this long. We are always fighting, it breaks my heart.
I have been eating
foods that kill
parasites
and I bought a Zapper. I started looking at my stool and found these things....
I NEED to do something to get rid of these things! Not doing anything, isn't working! I need to go somewhere to have someone take care of me. I have googled (Naturopathic Hospital) and even spoke to someone out of state, they are not able to help me in there hospital.
WHAT SHOULD I DO?
Any advice would be great!
Thank you for taking your time to read this and getting back to me.
Many Blessings to ALL