Hey fellow EC sufferers!
This is my first time posting, but I've been lurking around here since July 2016. My condition initially started around June when I began noticing that the middle "triangle" of the upper lips were peeling. Thinking it was just dry lips, I didn't care much about it and kept peeling and peeling away. That is, until around the second week of July, I jumped out of the shower one day and saw thin, white scales had appeared:
Over the course of the month, my lips turned hideous. My derm. prescribed me a steroid ointment that did nothing. I had a lot of the exact same symptoms many of you have- lips turning white when wet, and a 4-5 day cycle of peeling lips quickly transforming from raw, red skin into thick yellow crusts. For about three months, I tried a lot of things including-
1. Supplements- B complex, zinc, iron
2. Steroids/Ointments like Protopic 0.1, Rinderon-VG
3. No-Gluten diet
4. Vaseline (couldn't use aquaphor due to a lanolin allergy.
All of the above had none to minimal effects on my lips. This is how my lips usually looked like for the three months or so I had the condition:
Worst stages: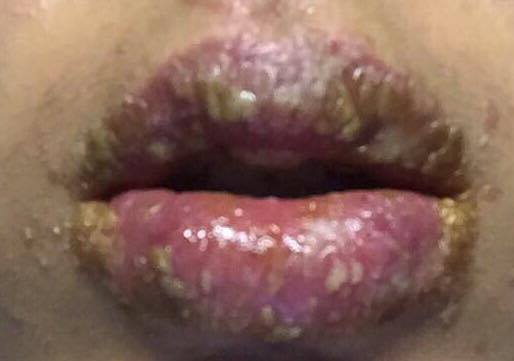 As you can see in the photos, my lips constantly kept fluctuating in severity, and the symptoms got a lot worse. I'm a high school student, so going to school was a f*ckin' nightmare. I had to wear a mask to school everyday, it was horrible
A little more than a month ago, I got a culture swab done on my lips, and they found a sh*t ton of bacteria- Strep, Staph, Candida, Klebsiella. My derm prescribed me a lot of antibacterial stuff: Itraconazole, Moxifloxacin, Faropenem and topical Gentamicin 0.1%. I also started using a homemade coconut oil, beeswax lip balm, and I began drinking probiotic pills. Over the course of two weeks, the majority of my lips gradually stopped crusting and peeling, and they wouldn't turn white when wet. I'm still having a bit of trouble with my inner lips, they still peel every so slightly, especially on my upper lips. Fortunately, I don't have that infamous "white line" anymore.
Photos from today:
I don't consider myself "cured" yet, I'm still currently consuming the moxifloxacin and itraconazole, but this antibacterial treatment has been working amazing for me so far. I understand EC has a lot of different causes, and I believe mine to have been the result of candida and other bacterial infections.