...once again took another look at who is showing up
at "the morg ball" [lesions].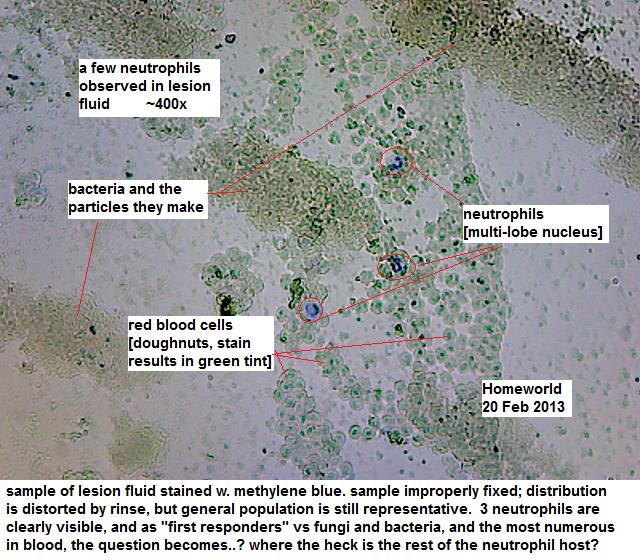 Same old story...millions of rogue bacteria making
particles..that eventually grow fibers ...
....and the number of front line white cells
[neutrophils in this case]
is..well..one can count them on your fingers.
Once again, am baffled by the low neutrophil/macrophage
head count. Oh sure, I find a few..but it's as if the
realm was utterly overrun with rats and mice..and
there are..one..two..three..four..cats available to deal
with the rodent explosion.
For some reason..the billions of "morg bacteria" and the
particles they generate..seem to cause very little alarm
in the immune system. About the only time I see a
vigorous, "zerg" attack of white cells, is when there is
an actually fiber in the blood/lesion fluid.
[..something a bit..pathetic..about seeing hundreds of
white cells bonding to an object a few thousand times
their size...hey..guys..here's a hint..:
take out the bacteria BEFORE it sprouts the "tree size"
objects .
...but no..they won't. They never seem to learn.
They find nothing..."threatening" about the bacteria.
** I strongly suspect that the "morg particle generating
bacteria"..are actually.."self" cells that have had
their genetic machinery hijacked to make the particles and
fibers. Their external cell walls disclose NOTHING of the
treachery hidden within the nucleus/re-written DNA.
..at any rate..the weak white cell response has clearly
been going on for a very long time..
Need to WAKE THEM UP..somehow..
...I read that beta-glucans have been used for decades
[since the 1980's ..in the case of Japanese anti cancer
therapy] . Seems that the beta glucans stimulate
neutrophil and macrophage response.
...
Ok..will see if I can detect any...helpful changes
by taking beta-glucans. SOMETHING has to change in
this morg vs immune system calculus if I am ever going
to get something that resembles "normal health" again.
..