I like Dr. Staninger, the world needs more like her!
Maybe we can learn a Russian "stomp on morg" dance!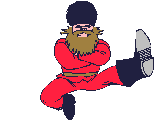 I've had that awful flu for about 3 weeks and been having a hard time wrapping my mind around anything. The worst is over I think... Hope everyone else is bouncing back...
The main thing now is I felt like I ate a bowling ball and it stuck! So been doing a lot of cleansing for that using castor oil and I got one of those "sputnik" internal zappers, which hasn't reappeared yet, but it really feels like it's doing it's job. Unloaded a lot of built up funk!!