There are over 200 different types of cells comprising the trillions of cells that make up the human body, each with its own specific function. At any given time an individual cell may contain over ten billion proteins of at least ten thousand different types of the estimated over one hundred thousand different kinds of proteins in the human body. Orchestrating the production, function, and disposal of such a vast array of shapes and sizes is a mammoth task.
Part of a cell's job is to maintain its own integral function while working in harmony with the other cells in the body. It needs to know what is happening and what is expected of it at any given time. Cells are quite particular about what they let inside with their semi-permeable membranes taking up what is needed and rejecting (keeping outside) substances that are not.
One of the mechanisms that is used in this regard is an integral membrane protein called a G Protein-Coupled Receptor (GPCR).
See
http://en.wikipedia.org/wiki/G_protein-coupled_receptor
These are specialized proteins that are interwoven into the cell's membrane and pass "messages" but not "molecules" from the extra-cellular environment into the intra-cellular milieu. Part of this protein is outside of the cell and part of it is inside.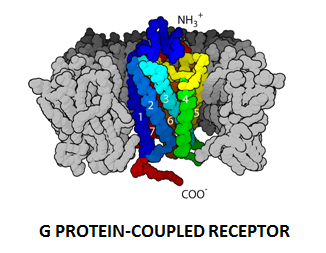 Messenger molecules (hormones) fit like a hand in a glove into the unique protein shape that is available externally. This triggers an actual conformational rearrangement (physical shifting) of the amino acid constituents of the GPCR precipitating a biochemcial cascade of events on the inside of the cell that are specific to the type of messenger and cell. Other molecules that do not fit into the glove cannot do this. It is a bit like a doorbell that responds to a certain fingerprint only.
As an example, consider one of the largest endocrine glands, the thyroid. This gland produces hormones that control the metabolism of almost every tissue in the body including how they use energy, make proteins, and their sensitivity to other hormones. The thyroid is induced to produce its hormones by the binding of thyroid-stimulating hormone (TSH), produced by the pituitary gland, to TSH receptors (GPCR's) in the membranes of thyroid cells. This sends a signal from the "outside" of the thyroid cell to the "inside" that activates the thyroid cell to produce and send out its own messenger molecules (hormones) to other cells which, in turn, have receptors that recognize the thyroid messengers.
High levels of circulating levels of TSH (as measurable via a thyrotropin blood test) are often indicative of an under-active thyroid gland that is not responding adequately to TSH stimulation. The downstream consequences of the interruption of the receptor communication system for TSH alone can be devastating and this is just one of a host of GPCR-type receptors found in the various types of cells throughout the body. It is already known that G protein-coupled receptors are involved in many diseases.
The actual methodology surrounding a GPCR is quite complex and not fully understood even yet but consider for a moment a common feature of all GPCR's that is essential to their bio-mechanical function.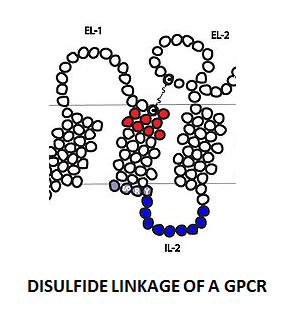 The extracellular loops shown above contain two highly-conserved cysteine residues that form a disulfide bond that is essential to the shape and function of the receptor. "Highly-conserved" in genetic terms indicates that despite differences in types of these receptors across cells and species in the evolutionary chain, the disulfide bridge remains a constant feature in all of the variants -- in other words, a critical component of the underlying mechanism.
Acetaldehyde has an affinity for disulfide bonds. The best acetaldehye scavengers are substances with an S-S bond incorporated into their molecular structure. In fact the body uses this very affinity in its own production of acetyl-coenzyme A, a necessary component of the
citric acid
cycle. It decarboxylates pyruvate to form acetaldehyde and moves this into the proximity of a disulfide bond in lipoic acid. The disulfide bond is cleaved by the acetaldehyde and the enzyme subsequently transfers the acetyl group from the acetaldehyde/lipoic conjugate to coenzyme A forming acetyl-coenzyme A.
But, it does this under the strict control of an enzyme where the acetaldehye is always safely immobilized within the constraints of the enzyme. It never allows the acetaldehyde to float freely in the cellular milieu.
See
http://www.brookscole.com/chemistry_d/templates/student_resources/shared_reso...
Acetaldehyde produced and emitted by yeast metabolism is not subject to such constraints. These rogue molecules pass freely through the intestinal walls and can hitch rides on red blood cells to be released later wherever the blood flows.
See Baraona et al.
http://www.ncbi.nlm.nih.gov/pubmed/3426680
GPCR proteins may be more than one thousand atoms (hundreds of amino acids) in length whereas acetaldehyde molecules (that are commensurate in size and behaviour to heavy metal atoms) are even smaller than the amino acids that comprise the GPCR protein. This means that rogue acetaldehyde molecules have no problem drifting into the receptor pockets which are in the extracellular region and attacking the ©-S-S-© disulfide bridge that stabilizes the GPCR.
If acetaldehyde cleaves this bond, it is highly unlikely that the signalling nature of a receptor damaged in this manner will continue to function correctly. Either the hormonal ligand that usually fits into the receptor pocket will not dock properly or the conformational shift will not occur even if it does. Think of trying to open or close a door with a screw driver jammed into the hinge or a door where the hinge is broken completely.
Although different cells perform different tasks and respond to different external messaging substances (peptides, hormones, etc.), their GPCR receptors all share this common mechanism for triggering a response inside a cell. Unrestrained acetaldehyde molecules have the ability to push the entire hormonal communications network into chaos!
Consider once again the thyroid example. If acetaldehyde has damaged the GPCR receptors of thyroid cells, they will no longer respond to the TSH coming from the pituitary gland. The T3 and T4 hormones usually produced by the thyroid will dwindle and the negative feedback loop that suppresses TSH production when T4 levels are high will not engage. Circulating levels of TSH will remain high and symptoms of hypothyroidism will manifest.
We now have a commensal perpetrator (Candida Albicans) capable of producing a weapon (toxic acetaldehyde) that can inflict calamity on vital protein structures (enzymes, receptors, structural tissue components) at a level that encompasses all different cellular specificities, more often than not leading to chronic, if not fatal diseases. Furthermore, treatment protocols that focus on removing the source of the toxin (yeast abatement) and/or sequestering it (acetaldehyde scavenging) before it can run rampant throughout the body produce dramatic results in patients with apparently unrelated diseases.