..I daresay there is a connection between the pretty
particles in the urine..and the particles in the lesions.
.."lets explore that, shall we?" [/fairy godmother]
****************************************************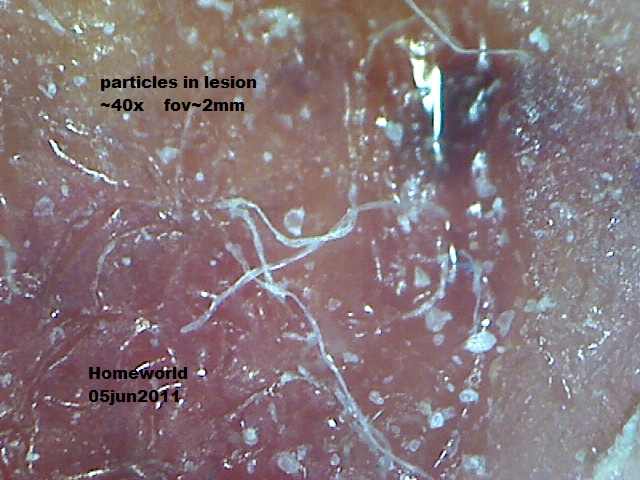 ...there are always particles in the lesions.
..it's..tradition.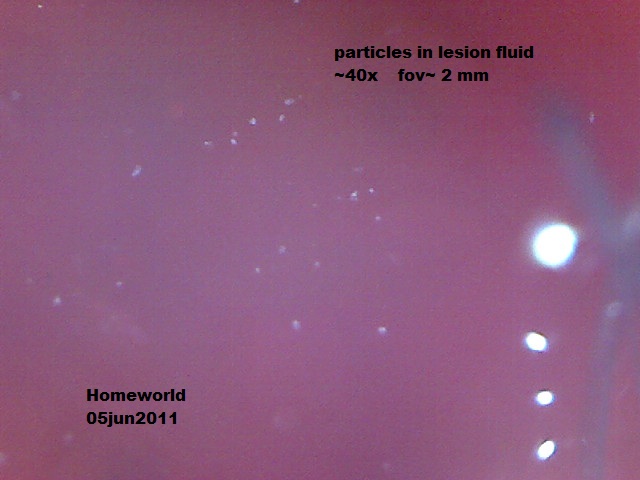 the particles are always in the lesion fluid as well.
at first I thought that maybe they were being assembled in the
lesion fluid. They may GROW and multiply in the lesion
fluid..but the get there via the blood.
=====================
there are always particles in the blood as well.
..that does appear to be how they get to the lesion site...
Red Route One..take a hard right at the capillary closest
to a hair follicle..and it's a straight shot to the surface.
closer view of ONE particle in a blood drop; bottom lit
and top lit.
================================
..the particles are always in the urine..and when conditions are just right [whatever that is] they can
leave in astonishing numbers; as in 40 percent of a urine sample made up of..particles.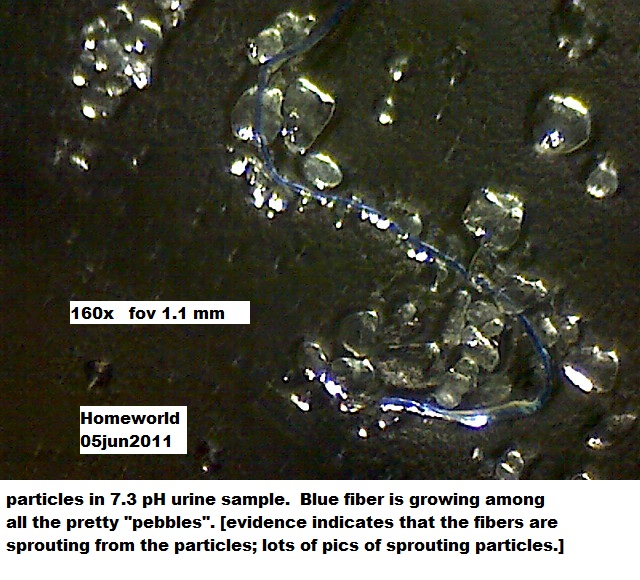 the particles seem to like to do two things..
a] gather together
b] sprout fibers
....here is a blue "ribbon" fiber growing among the particles.
the fibers are usually the same color as the particles
[translucent/clear] but colored fibers are not hard to find.
..ok..this makes sense. The particles are in the blood.
The kidneys are trying like heck to remove the particles
from the blood and dump them.[an uphill fight..since
it seems that they are being produced just as quickly]
The days when I get especially large amounts of particle "sediment" in the urine, I suspect occur when pH levels/osmality conditions in the kidneys encourage them to "unstick"/break loose
from the nephrons in large quantities. [best guess]
***
..now as to how the particles get into the blood..
I know the gut is full of particles and fibers.
I have many pics of the slime that covers the stool
as it slides along the lumen of the intestine. That slime
is utterly loaded with fibers, particles, colored gels.
The particles are being generated in the gut in huge
quantities..as are ribbon fibers, "sugar snake" fibers
and other bizarre..things. I can only image down to about
2-5 microns..I would not expect that particles in this size
could transit thru the gut wall and enter the blood system.
However...the gut wall may very well be damaged..punched
full of tiny holes from all the sharp fibers I have seen.
There may be many perforations allowing particles easy
access to the circulatory system. That they ARE in the
blood system is no longer in doubt.
*as a side note, the last blood test done at a lab
indicated that the red blood cell volume was a few percent
larger than normal. wanna bet the particles riding the
blood cells are making the RBC's appear .."too large"?