...possibly reposts..but hey..new folks wander in and out
over the months..
____________
..these extremely fine "fibers" I highly suspect to
be fungal in origin. They are indestructible as
fungus in KOH..the skin around them..dissolves..
forming craters and lesions..[fungi dissolve their food].
...but their structure is so...odd..loooooong non branching
filamental hyphae? The "crystal clear" fibers
display no tendency to form mycelia.[tangles of
hyphae]
There are no conida["spores"] anywhere
to be seen on the fiber. What sort of a fungus is this? Or maybe it's not..
Its fungus..no...it's not a fungus..is too..is not..
...*glare*
______________________________________________________________
crystal clear fiber grows out of a beard follicle. Fibers are amazingly small
in diameter..appx 20 microns...far smaller than normal hair. Here you see
how thin they are when compared to a normal facial hair.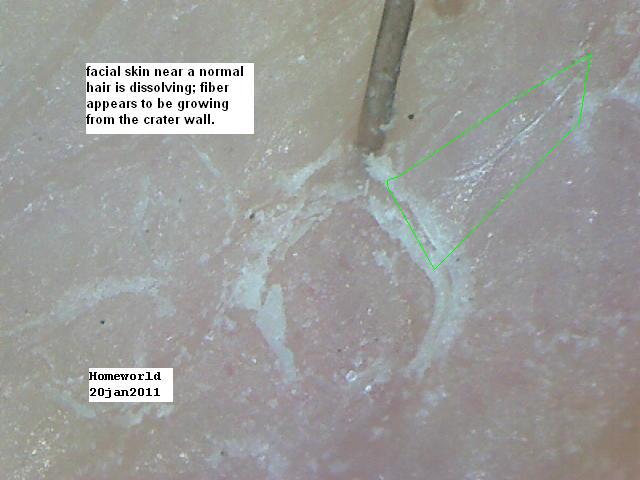 A good view of what happens to the skin as the fungal fibers climb out of the
hair follicle.
Small fiber if forming inside the green box. Another tiny "baby fiber" is visible
just below the base of the hair [white vertical column]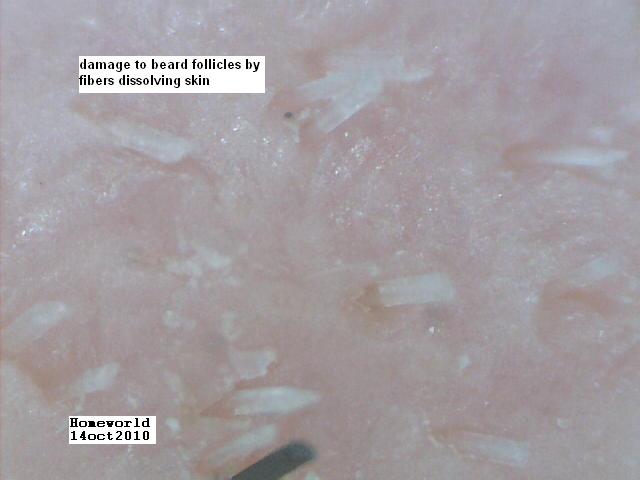 close view of facial hair ..the constantly sprouting "fungal fibers" that
climb out of the hair follicles..are eroding the follicles. Note the large
craters forming around the beard hair. The skin begins to look like swiss cheese.