..amazed at the amount of dandruff coming off
the black cat "Dragon". Noted a lot of colored fibers
on her fur..but are they being picked up as she wanders
around the apt..or are they growing out of her skin?
Close look at her skin flakes reveal that her skin
is crawling with the filaments and ribbons that I
consider to be fungal...they are the same things
that are growing out of my skin..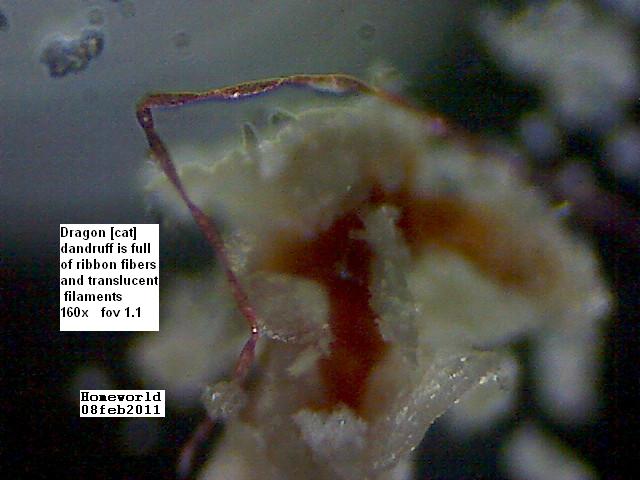 and the same fibers that are in the tap water in
large quantities.
...we are all drinking water that I distill myself..
but the distillation process does not remove all of them..
at best..90 percent. Carbon cartridge filters
don't remove the particles [spores] or the tiny filaments.
So..the cats and I are still
getting small doses of these bastids everyday.
Still working on SOMETHING that will disable the remaining
ten percent. [double distilling not really practical..
12 hours to distill a gallon..and cost a dollar in electricity. Not a plan...and
will probably still be dealing with a few percent of the
amount of fibers in the "raw" tap water even after
double distillation.
I'm looking
for 100 percent KILL THE REMAINING MOFO'S solution.
..would settle for scrambling their evil dna so that they
can't duplicate.. I read that Ultraviolet light does
a bang up job of punching large holes in pathogen dna..
..perhaps UV....although the Steripen does not seem
a good tool for dealing with gallon lots of water..it's
designed for a few
oz
at a time..
may get one and experiment..then if it's works..
scALE uP to a larger UV system.
something has to work. They're microbes/fungi things..
they have to have a weakness.