let's kick it up another notch..shall we?
of course we shall.
ok..there we are..doing the usual "bed check" of
the lesion fluid folk.
..it starts out pretty darn normal..
the usual drop of fluid with lots of bitty
red pigmented gels bits..
...nothing else..no "wires"..no structures ...'
just....scattered itty bitty bits o' gel.
...nothing much to see here..right...lets move on
to other samples that need checking.
..
...
..
ok..other samples are pretty normal..all things considered..
lets check up on that first lesion fluid slide..see
if anything's changed..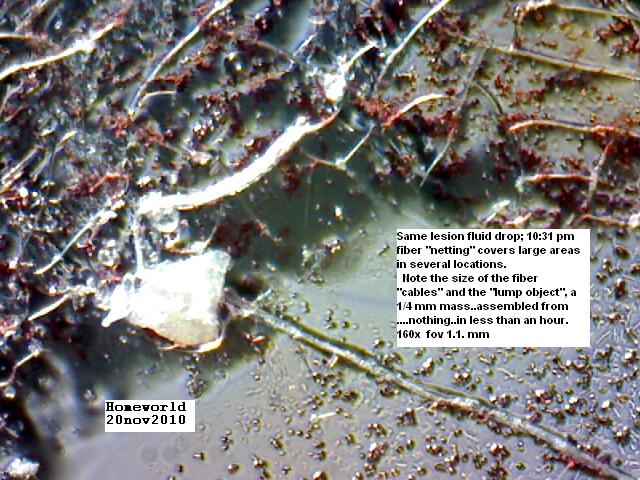 yeah..you could say that something's changed.
The spiderwebbing is old hat..but look at the
size of some of those "cables"!..And how the hell
did that huge "blob" structured get there? That's
a fair amount of mass to be assembling from..tiny bits
of gel. Lots of gel bits had to move...somehow..to build
up that big white...brick thing.
*** all this construction went on while the slide was
on the desktop..at room temperature..
no heating from the incandescent illuminator of the
microscope required. 70 degrees F is apparently...warm
enough.