...found this pic of a neutrophil
eating ...Anthrax. {!}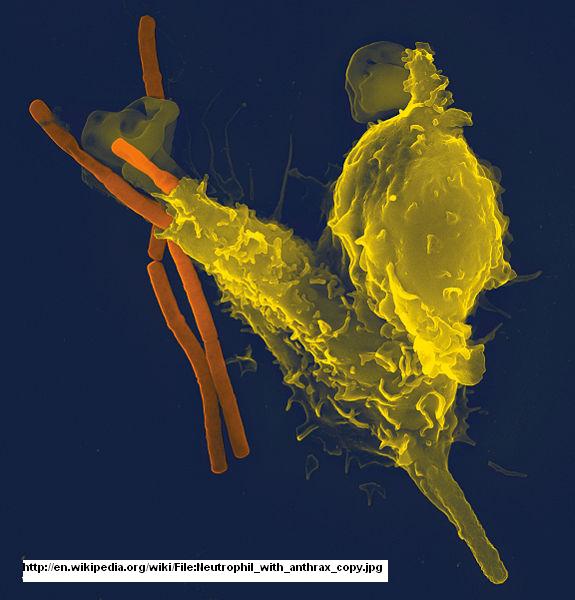 Their Kung Fu is strong....
or at least it was...
These days...however..the white cell army is getting soundly thrashed by the mOrg horde and it's fungal
and bacterial associates.
I am beginning to understand that it's not entirely
the fault of the WCA [white cell army].
They need acetic acid in the blood..[vitamin C];
they suck it up inside their
blobby selves..and concentrate it up to 500 times the
ambient level in the blood. They use it to gin up
superoxides...then to peroxides..finally to hypochlorous
acid..[bleach] to destroy pathogens.
...hmm..killing blood pathogens with
hypochlorous acid ..sound vaguely
familiar somehow...*cough*
Miracle-Mineral-Supplement
2 *cough*
Hypochlorous acid leaking from neutrophils
can cause tissue damage..some diseases...it is quite capable of killing cells other than pathogens.
That makes claims that
Miracle-Mineral-Supplement
2..[which also generates
hypochlorous acid] only destroys pathogens..rather dubious.
...At any rate...the WCA needs vitamin C in the blood in
order for them to kill pathogens. Glucose and vitamin C
have similar molecular shapes;they compete for the
vitamin c receptors on the white cells. When the
glucose in the blood is high..the neutrophils tend to
snarf down the
Sugar
in preference to the vitamin C.
The white cells do not gather enough acetic acid for their
anti invader weaponry..and they are rendered....toothless.
In addition, high blood
Sugar
levels and high lipid levels
[fats] in the blood tend to jam the chemical communication
and target sensing [chemotaxing] sensors of the white cells. How many people
are wandering around with high
Sugar
and/or high lipid levels in the blood...especially after their McBigDoubleCheeseburger and Bucket o' soda?
It is becoming clear why there is such a close correlation
between exploding obesity/diabetes/cancer. Load the blood with crap...shut down the immune system for hours at a time..no wonder so many are sick.
_______________
as a quick experiment..yesterday I tested my blood
glucose..it was the usual "between meals" fasting
level of 100 mg/dl
...ate 4 slices of small pizza...[oink!]
blood glucose an hour later was 140.
and all from converting the pizza starches to sugar.
if a bg level of 120 will cripple the immune system by
75%...I would think that a level of 140 will pretty much
shut it down entirely for several hours.
This is not a strategy for victory over the forces of mOrg.
Just about the time one feels 'righteous' about not eating
any cakes/cookies/pie/soda...anthing that is a known
high sugar food..
...one finds that bread/pasta/starch of any kind is
a far bigger problem than one thought.
seriously..a 40 point bg spike..from a pizza crust?
this "eat without hurting yourself" game is getting
to be ...annoying...and depressing.