..have now seen the lesion fluid cracks develop
many times. The 20 second video I posted is showing
the crack propagation in real time; no edits..no time
lapse. When they start going..they can cross the field
of view of .3 mm in a matter of ..about 3 seconds.
..call it..100 microns/second. That is a FEROCIOUS speed
for something to be assembling...it MUST be cracking..
Ok...so 'something' moving at that speed MUST be a crack
phenomenon. However when I take a close look and change
the lighting to top/oblique/side..the cracks appear to
be 3 dimensional...in fact..they look like micro wires.
They are not radiating in a random 'star' pattern...
they seem to be making a bee line to the next clump of gel.
They dont tend to 'dead end' in a space free of gel...they
keep trucking till they connect. There are not 'rays' of
random cracks dead ending in nothing. Everyone seems to connect..if given enough time.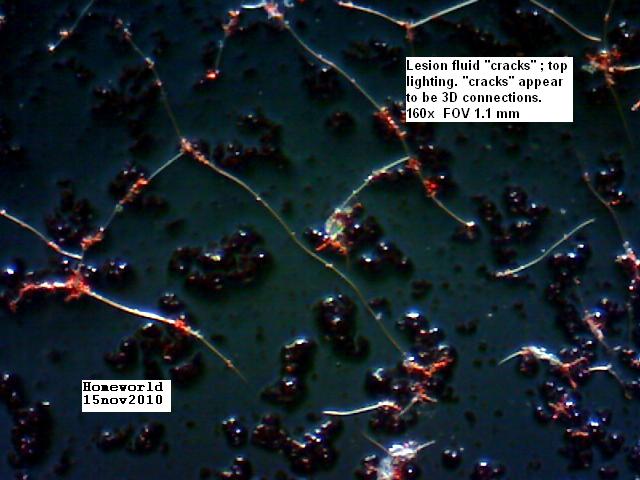 When observed with top lighting..you can see that the
'cracks' are not simply traveling along the plane of the slide..they go up, down..whatever they have to do to connect to a "gel node" and continue on their way.
Every time a 'crack' crosses a "gel node"..a tiny bit
of gel appears to be securely connecting the wire to the
'node' as if it were being soldered. This 'crack' configuration appears very much like the gel nodes are being wired up by the 'crack/fibers' into a mesh network.
This does not appear to be simple 'cracking' behavior.
I have been trying very hard to keep the explanation
to what I am seeing in the box of "drying fluid cracking"..but that box is not holding up at all well
vs the observations. If the cracks are in fact 'fiber wiring' of some sort..the "Weird Index " just went up
another notch...or two.
?? gels being wired into a mesh network..what the heck does
a gel have to communicate about? On the other hand..why
do gels spin out fibers at absurd speeds?
** life in the Matrix...
....but I don't remember Morpheus giving me any
red or blue pills...
heck..i don't remember talking to Morpheus..
'..the matrix...unplugged...no pills required..'