dumped a huge wad of green [?] goo today..
after feeling very ill for a couple of hours.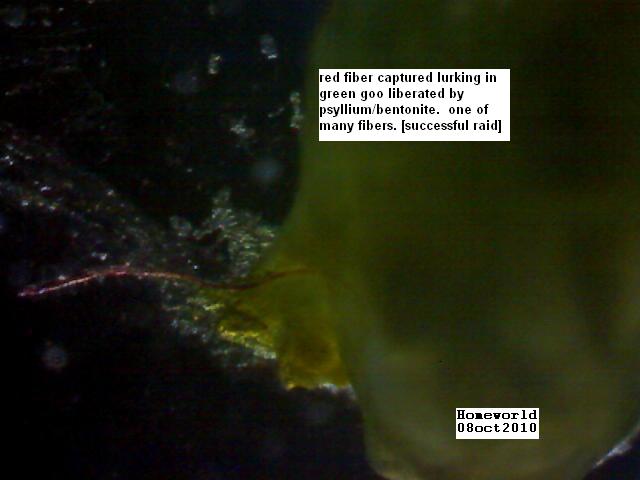 here one can see a red fiber in the greenish goo.
one of many fibers observed..and I didn't even try to
microscopically exam the whole mess..too much of it.
best guess is that for some reason the psyllium/bentonite
is grabbing huge amounts of what is usually yellow goo...
[goo that sprouts fibers that I suspect are fungal..
very rapidly growing white filaments that are all too familiar]
?green?..maybe it's the
Miracle-Mineral-Supplement
forcing a chemical reaction..
turning the yellow gel to green gel..
jury is still out..more experiments needed.
Have seen many psyllium 'ropes" before. This arrived
like a cored out light green bell pepper made of really
soft 'gummy worm' gel. very strange. and even more
malodorous..not surprising..the yellow slime is about the
nastiest smelling stuff I've run into.
Doesn't smell like...turd..that's not all that bad..
.smells more like "the chemical refining plant
blew up". random mixing of chemicals that should never be allowed to mix. really bad. Got pics for the logbook, of course, but I will spare the audience that particular
excitement. Looks nasty...photo sample was appx 2x3 inches..but lost about 1/3 prior to getting a mugshot.