The filaments that are growing in the water..and in
my skin...are so "bulletproof" to anything I've
used to kill them..that I have had suspicions that they are not
really "alive". With the morg fibers..that may turn out
to be the case...columns of "stuff" being assembled into
long, featureless "hairs". However the "crystal plants"
are not featureless..they have significant structures.
While I can imagine a featureless hairlike cylinder being
assembled by some nanoscale manipulation..similar to growing a crystal..I can't see how one would build a structure rich construct such as a "crystal plant" in this way.
...really big critter...bummer is that it was in the
distilled water. LOTS of crap in the distilled water.
["micron" filtered and all that..and UV treated. Oh really?]
Only had the lid of the bottle for about ten seconds to
snag a couple of
ounces
for..some experiment or another...
a few weeks ago.
I'm to believe that the bottle got contaminated this badly
by having the lid off for a few seconds? I doubt it.
The critters are much bigger and more fully developed.."mature"..than anything I have found in the tapwater. And even if the bottle got contaminated in a few
seconds of having the lid off ..how the heck did they get
so huge in a few weeks? In distilled water..no nutrients for them. Gonna hafta buy more of this distilled water..
grab samples immediately after opening and check again.
I don't need a microscope to see that the distilled water
is heavily contaminated..just pour into a glass and
glare at all the "bits" floating in there. Some are plainly fibers. Here's a very short .wmv showing about
what it looks like to the unaided eye...the view is
only mildly magnified..maybe..10-20X.
//www.curezone.org/ig/i.asp?i=48330
624kB .wmv format
.
,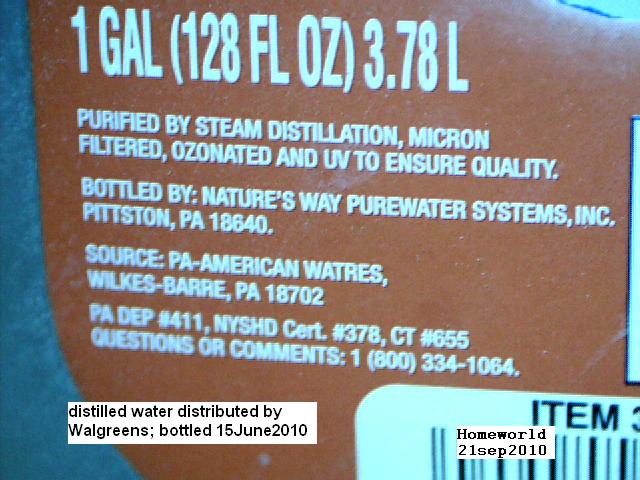 Yes..protect your health with distilled water..
because the tap water is so ....dirty..you know?
*