..a year ago..
suspected I had a Candida overgrowth..
taking fairly large quantities of
Black-Walnut
...garlic
oil of oregano..
in two weeks..morgs erupted..fibers from skin and lesions.
in three weeks..I experienced the Mother of All Constipation.
packed solid with..these:
only a sample of the full size pics..no need to brag..
millions of fibers all leaving at once. all tangled together...approx the consistency of uncured adobe bricks.
....good times getting that mess out.
happened again ten days later. learned to swallow
aloe vera capsules along with the "dewormer".
well..ok..not worms. but not candida either.
candida colonies don't grow into fibers that huge.
candida is microscopic..not a baby tree.
ok..so it's morg fibers? I have doubts.
...a year has gone by. A recent experiment with
using only liquid
Black-Walnut
... a little every day.
Ramped up to 2 teaspoon doses..last dose resulted in
another mass exodus..this time they were much smaller;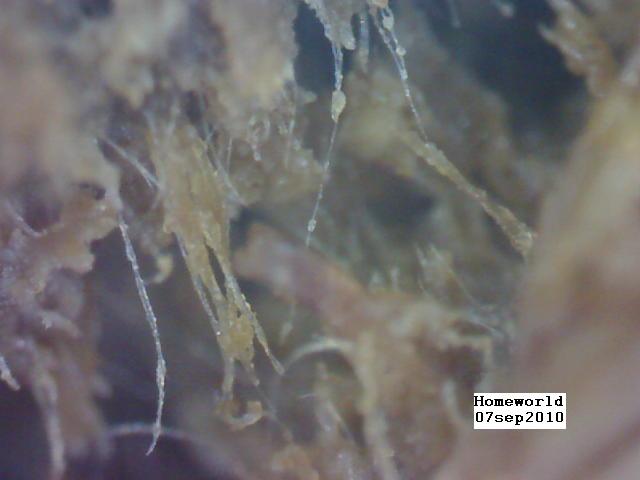 ..much closer, higher magnification view than the first pic. Not that I need a microscope to see them..there are
small fibers in every stool. And plants. Or things that
look like plants. And fibers up to 110mm long in urine
and stool. Bagged another 100mm stool fiber today.
a year has gone by and despite all the
"stuff" i've tried..I'm still ginning out too much
weirdness. This is not progress.
still puzzled as to what the fibers are. fungal fibers
or morg fibers..or a hybrid..what are the bizarre plants
that grow so damn fast? I suspect the plants have something to do with the tap water critters..same for the
urine critters that look so much like the tap water things.
...ok..a year later...water is filtered and blasted with
chlorine dioxide. Shower water is filtered. Laundry is
done in another town at a laundromat with better machines...and hotter water and dryers. [and hopefully cleaner water...have to remember to sneak a water sample]
learning to maintain body pH UP..the really weird shit
has tapered off to a much lower level..hoping that the
MMS is causing severe problems with fungus/morgs/bacteria
but the jury is still out on that for a while. A long while I suspect. Still taking
Black-Walnut
..it does seem
to upset the fungus/morg filaments/alien implants..but
they ain't dying off.
Bentonite clay removed ten of thousands of "ribbon "fibers
from legs...but the skin is still sooo bad. The arms were
looking better after a year..but they are ripped up again
with lesions. very depressing. Still have not found the
"keys" to jamming the morg machinery...and whatever other
fungus/bacteria is running amuck.
...back to the lab, Beeker..