...found this critter on my skin. Have found several..actually. Labeled as a "blue snake"..but took
to thinking of this as a "bird head" due to the relatively
large, rounded..curved head..and what looks like a bird beak.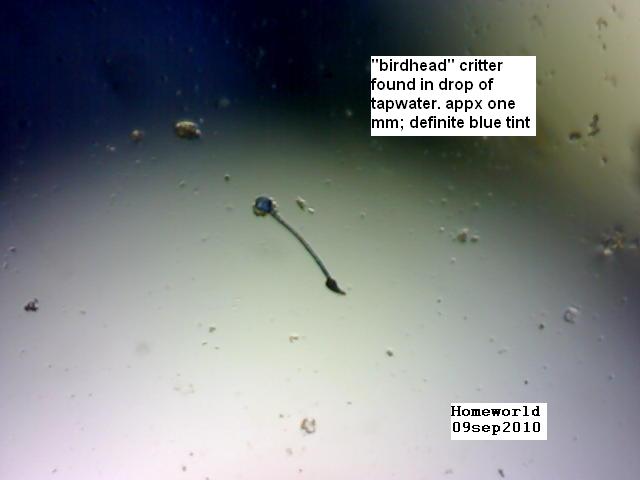 note the rounded...curved "head"..with the sharp "beak".
...very much like the first picture..the "birdhead"
[aka: "bluesnake"] found on my skin back in March.
It appears to be exiting a blue tinted "ball"...perhaps
it is the critters "egg"?
Once again I am reminded of how spectacularly filthy
my tap water is. Not fit for consumption until filtered
and treated with chlorine dioxide.
I REALLY want to raise hell about the water situation..
but have NO interest in wasting time chatting with the
property manager. Suspect that the State is derelict in
their "inspection" duties...just had the state and city
inspectors make their "inspection" tour last month.
Utter bs....they "inspect" nothing. Strongly suspect that
a LOT of my physical problems are rooted in the filthy water. EVERYTHING I see on or in my skin or excreta..I find in the tap water. I would love to sue the socks
off someone for providing toxic water...but hardly have the
energy to pursue a court case..even if I had the money to
pursue a legal redress. Which I don't. A year of illness and unemployment will pretty much close the legal "sue for damages" angle. Would have to gin up thousands more in additional medical documentation and lab tests of all sorts. No money..no energy..no time [MUST get moved out of
New Jersey..can't afford this overpriced rathole].
at the very least want to blow the whistle on these
asshats...a LOT of folks are drinking this swill.
[it's an apartment jungle..about 36 "12 plexes". YOu do
the math on how many apt dwellers are on this loop of the
water system. Hell, for all I know the entire city is
being poisoned. But hey, it's cool..the city sends me
their nifty "water quality report" every year. It's always
rated as "perfectly okey dokey" of course. Sure..it
looks great..at the treatment plant..but does anyone
check the water at THIS END? NOOOOooo.
...idiots..