as if the endless FDA "holy war" vs all silver products
was not annoying enough..
now..they move on
Miracle-Mineral-Supplement
.
guess they were getting too many "nastygrams" from Pfizer and Johnson & Johnson..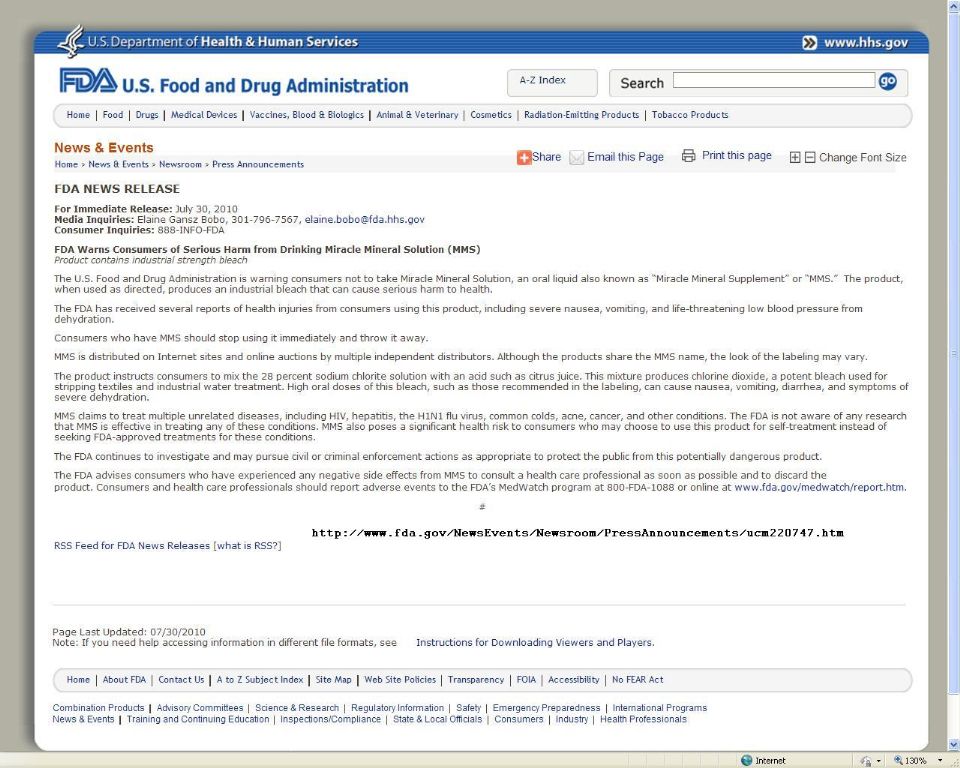 ...oy...I really need to get an image resizing tool...*facepalm*
..the FDA received a few complaints from folks
who vomited or felt nausea or got a case of
the runs....and blame
Miracle-Mineral-Supplement
.
a few? out of how many million "doses" of
Miracle-Mineral-Supplement
over the years? And maybe the "pukers" were "downed" by the flu?
Or perhaps a bit of a "herx" reaction? Or were slow learners that can't follow simple instructions and "overdosed".
A few folks claim they puked 'cause something is "bad" with MMS. And thats all the FDA overlords need to force a shutdown. Never mind the
body count of folks who were killed and are killed/maimed
by the FDA APPROVED patent drugs...often while being
administered in the hospital..by health care experts. How many recalls of
approved meds now? Too many to list here. Utter hyp0ocrisy...how obvious can it be made that the FDA is
merely the GESTAPO arm of the mega pharmaceutical giants?
vitamin supplements and herbals are dangerous
and need to be regulated..for "safety".....silver is bad...cl02 is bad [never mind that cl02 is
used globally for water purification..and one can still
buy cl02..just not as "mms". I bought liquid two part cl02
last night from Amazon...as a "water purifier". But put
an MMS label on it..or hint at "killing bugs IN the body..and the gov't hammer falls.
Nothing can cure a sickness but a patent drug. Not just a
theory..it's the LAW.
________________________________________________________
Jim Humble saw this coming back in 2007...
a few complaints..and your product is history...no
surprises here.
________________________________________________________
"And now, since the first edition of this book, the FDA
has announced
its intentions of shutting down at least 50% of the alternative medical
businesses. The new law enacted by congress gives the FDA the right
to require that all supplements be tested to prove their efficacy. That
means that the FDA can stop any supplement at any time and require
testing. It could cost up to $100,000,000 for a single supplement.
While more than900,000 people die from drugs each year, the health
industry does not average one death a year. But should someone even
report being sick from a health supplement the FDA can and does stop
every supplement of that kind in the country. In several cases, even
though nothing was wrong, the supplement was never allowed back on
the shelves. Now with this new law, just from what they have said they
are going to do, it is obvious that the FDA intends that nothing but
drugs will eventually be available to those who are sick.
Please tell your friends about this book."
See
The Miracle Mineral Supplement
of the 21st Century
Part 1
Jim V. Humble
2nd Edition, 2007 Updated December, 2009
*************************************************
...and the sheeple continue to bleat and graze happily.
The gov't is their watchdog..keeping all that dangerous
"quackery" far from them.
All is well.