After nearly a year of discovering this site and reading about liver flushes, my friend and I finally took the plunge last weekend and did our first
Hulda Clark
cleanse.
FYI, I am a 37 year-old female and my friend is a 42 year-old male. We both have stressful corporate jobs and reside in Auckland, New Zealand.
We did most of the flush as directed, and there were a couple things I would change for next time. For example, I hadn't realized I wasn't supposed to eat a fatty lunch. For lunch I went to our local cafe and had chicken wrapped in filo pastry, salad and a latte. After that I had an ice cream cone. Suffice it to say I had a bit too much fat (I'll change this on my next attempt).
Liver Flush
liver stones
or gallstones">
That afternoon, I juiced copious amounts of apples to make enough apple juice (to combine with the
Epsom Salts
) for both of us. I pre-mixed each of our apple juice/
Epsom Salt
servings in advance, covered and refrigerated them.
I had bought two inexpensive collanders (about $3 each) that we could throw away after the flush (at a store here equivalent to Pick-N-Save).
We drank our first servings at 7pm, so we were about an hour behind the recommended time. We took the next dose and the olive oil and lemon juice at the prescribed time.
I found it really difficult to drink the
OO (Olive-Oil)
(I tried to psych myself out and convince myself it was a chocolate shake!), but figure a little pain was worth a lot of gain.
At 3am I awoke and had bad nausea and diarrhoea. I managed not to throw up, but did feel horrible and stayed on the toilet for a good long while. I did not see any stones at this time.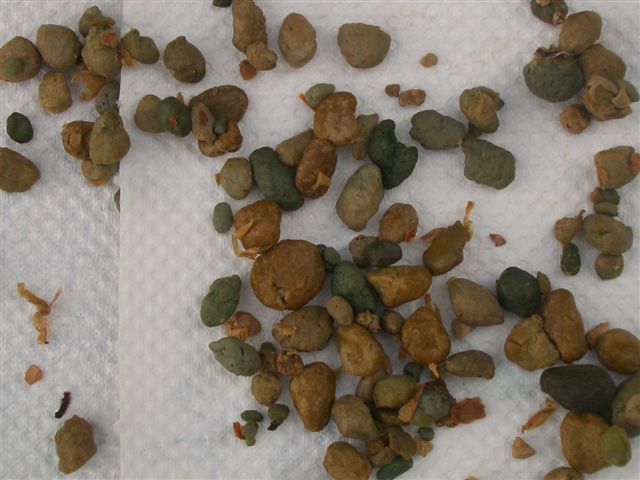 Liver Flush
liver stones
or gallstones">
I slept fairly well after that, set my alarm for 7 am and took my third dose of
Epsom Salts
at that time. I had another bout of diarrhoea, and did get a few stones this time.
When I next awoke at about 9.30am, I had horrible diarrhoea. Similar to other people's stories, I had gushes of water. I may have been more concerned if I had read this was "the norm" on the forum.
I decided to use my collander, and although it was a bit disgusting, I am really pleased I did. I collected about 200 stones and probably flushed another 50-100. I have photos and will send them to the
Webmaster
for viewing.
Liver Flush
liver stones
or gallstones">
I got a variety of sizes, from small flakes to cherry-sized stones. About 10 of my stones were cherry sized, and blue-green in colour. The majority of the stones were pea-sized. I had both tan and blue-green stones, about 2/3 blue-green.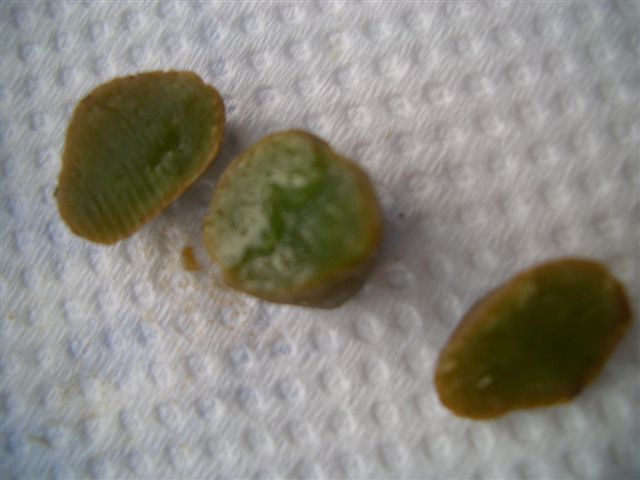 If anyone can advise me when the photos are posted if they think the blue-green stones were liver or gallstone stones, that would be appreciated.
I continued to have diarrhoea and to pass stones for the rest of the day. I ate only fruit juice, fruit and muesli for the day. It's very unusual for me, but I had no desire to eat anthing else.
My friend's experience was a bit different. He chose not to use the collander, which I found disappointing. He reported seeing a lot of green "sludge" and small flakes floating in the toilet bowl. I'm not sure how hard he looked, but he said he didn't see any large stones.
He chose to eat his normal diet just following the flush.
I have felt no immediate effects, but do feel a real sense of achievement and satisfaction. After being fascinated for so long, I finally did it myself and achieved the desired results.
I can say that the whole process dominated an entire weekend, but it was the first time, and anything the second time around is surely easier!
As a result of the short fast, I have decided to go cold turkey on my coffee consumption. I used to drink 6-8 cups of coffee a day. That's a big bonus for me.
Thank you to everyone for the information and hope provided on these pages. The site is such a valuable source of inspiration and a key to better health.
As an aside, I would recommend the site www.thedoctorwithin.com to all CureZone readers. Have a look at his chapters -- of particular interest to this group would be the one titled "Journey to the Center of Your Colon". A bit of a funny title, but he does sprinkle a fair bit of humour in his writing.
All the best
Micha
http://www.thedoctorwithin.com