Further to my recent posts about finding an eco friendly and cheap supply of distilled water, I did a bit of research and found some useful stuff. This page has some great ideas. I particularly like the Watercone idea from a German company, who are going to start producing it in late 2008. It is expected to sell for under €20 and last over 5 years, producing about a litre per unit per day.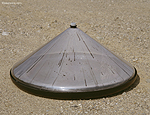 I came across a similar design used by yachtsmen. I was also thinking of black towels dipped in the impure water to allow it to rise by means of surface tension, this should increase the evaporation rate since it will give a greater surface area for evaporation, and of course black absorbs heat.
I may therefore take the kiddies swimming pool back to Tesco and look for something conical to experiment with. Or I may wait until later this year and buy a Watercone.