First of all, "happy new year", to y'all.
Lymph clearing?
Feeling much stimulation there, lately…
Over the past couple days I have been experiencing some very pronounced movement deep in the lymph. It is feeling as though something major is coming on because the lymph has been so stagnant for so many years with me.
Yesterday I had to give
Miracle-Mineral-Supplement
a total break so to be able to bring in the new year, in being able to enjoy the food and drink with my loving partner.
So last night, to save my gut the anguish of the "acidic shock" that usually follows, and to bring appetite back, I thought I'd try taking
Miracle-Mineral-Supplement
in through the back door. Went with 12 drops + lemon juice then added about 8
oz
of distilled water, and then loaded into an enema bottle. After taking it in, I tried to hold all of it in as much as I could but then had to make a run to the toilet.
Afterwards, not thinking that I was able to hold in even half the amount's worth (6 drops maybe at the most), twenty minutes later, I started feeling some incredible affects deep in the lymph in all areas of my body. Especially noted strong electrical-like pulses firing at the bottoms of both heels of the feet (the skin is always been very dried and cracked, especially during the winter months).
Through a search on lymph system, it was discovered that the colon is found quite pronounced with mesenteric lymph nodes.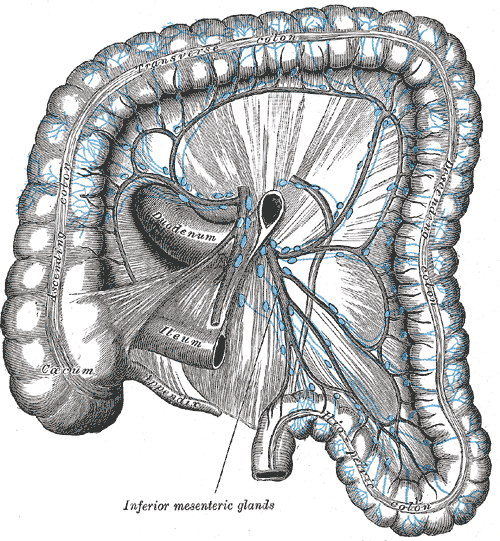 To keep lymph clear it is suggested to accomplish this through diet, stress reduction, exercise, deep breathing, iodosupplementation, [edit in cayce's use of castor oil], and more recently a new product called the ST8™ (link below). I am wondering if
Miracle-Mineral-Supplement
could also be an most important addition to the ways of countering lymph stasis?
I am, of course, referring to The Lymph Stasis Theory of Cancer by W. Sampson Handley, January 1931.
http://www.pubmedcentral.nih.gov/pagerender.fcgi?artid=1398762&pageindex=1#pa...
more recently,
http://www.worldhealth.net/p/1037,2092.html
Cancer... Does it begin with lymph congestion? By: Courtland Reeves, Research Director, ELF Laboratories
"When the lymph system is dysfunctional, excess fluid and particles accumulate within the intercellular spaces resulting in inflammation. If left unchecked, chronic inflammation results. Particles (i.e. toxins, large protein molecules, etc.) begin accumulating within the intercellular spaces and can provide a 'breeding ground' for disease.
Protein structure in living, healthy, tissue is always in a state of alignment. This is most evident in the connective tissue that holds the body together where the alignment of collagen fibers is stable. However, protein structures break down as cells die or are damaged. It is waste proteins that are removed by the lymph system. When these proteins are not fully removed by the lymph system pathologies occur in the body.
These nonfunctional proteins have the same electrical properties of attraction, but as they organize, their structures are random. This is called a fibrotic condition of the interstitium (the area between the living cells in connective tissue). The instability of nonfunctional proteins causes them to attract water and hold it by electrical bonding. This is called edema.
Practitioner's who work with the LBG® to promote tissue detoxification and boost the immune system, find they can reduce many symptoms associated with inflammation issues such as
Acne
(at beginning, a slight worsening may occur), tissue congestion from injuries, chronic injuries, eczema, burns, enhancement of general resistance, scars, old and new Keloids, cellulite, swollen legs, heavy legs, fatigued legs, Mastodynia (breast tension in women after ovulation), prostate enlargement, pre-surgical preparations, post-surgical treatments, headaches, Fibromyalgia, lupus, any chronic condition, new and old injuries, pain and neck rotation problems.
While the LBG® works with the material and energetic level to disassociate chronic lymph blocks, a new product called the ST8™, has been engineered to enhance tissue detoxification by delivering energetic patterns to the cell. ST stands for Scalar Transmatter and uses novel, noninvasive, non-cytoxic producing techniques coupled with quantum scalar technology. It is tissue detoxification coupled with an oxygen-feed system supported by eight imbedded functional processes.
As the world's first Scalar Transmatter oxygen-fed tissue detoxification system, the ST8™ technology represents a 'quantum leap' in expediting critical lymph stasis. It significantly reduces potentials for a healing crisis by placing the oxygen-plus molecule directly at the lymph stasis target site."
Anybody?