Foot chart here
nice foot reflexology chart

Date: 4/1/2006 6:08:05 AM ( 16 y ) ... viewed 2515 times
foot reflexology chart inside
From: Wrenn
Date: 3/3/2006 8:36:00 PM ( 29 days ago ) ... viewed 45 times since Feb 20 2005

I was over looking at his site, to try to find that lab,
but apparently now youonly get free testing if order 3 boxes at a time.

but they do have a good foot chart that you can look at for organ areas

here is a quick foot chart at this link: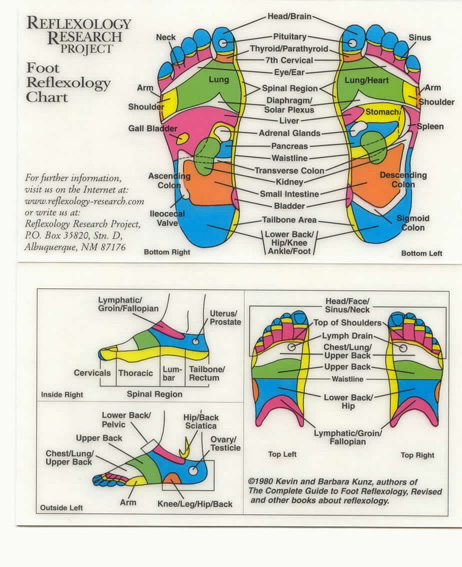 Buy wallet size @ 2 $ each
for laminated foot, hand and feet charts here:
or buy wallet size folding hand and foot chart together for 3$
then the wallet size ear chart for 2.00 and your total will be 5 $
rather than 6 $ if you order each as a separate unit of 3.
(save a $ )

http://aboutreflexology.com/charts.htm

hope this helps.
love.
Ami joi Benton




Add This Entry To Your CureZone Favorites!
Print this page
Email this page

Alert Webmaster