MORE Doodle Art
Been making a doodle art almost daily. Helps to calm the nerves during these stressful times. Here are the most recent ones

Date: 8/6/2020 12:37:42 AM ( 27 mon ) ... viewed 755 times

Doodle Art by mayah(c)2020 "Fractured"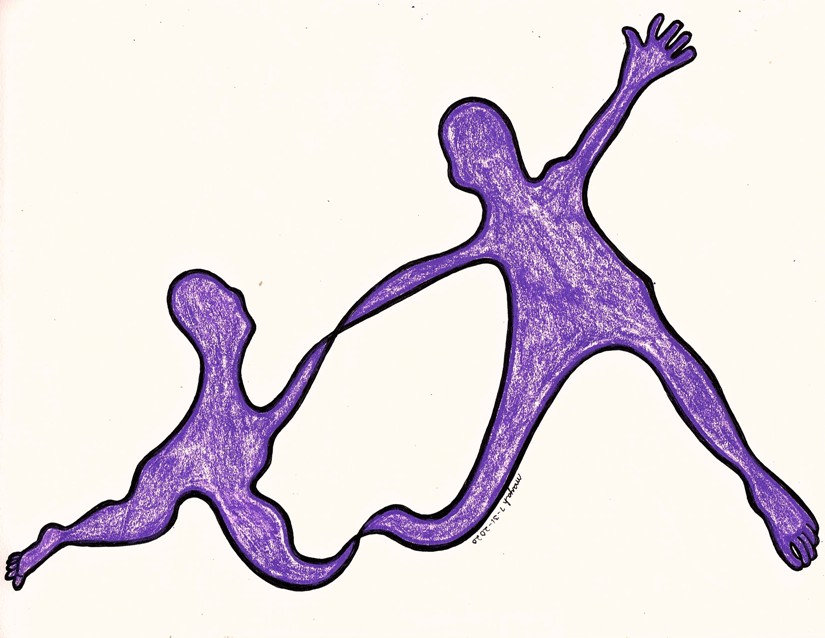 Doodle Art by mayah(c)2020 "Helping Each Other Up"




Doodle Art by mayah(c)2020 "Growth"




Doodle Art by mayah(c)2020 "Crystalline"


Process: Doodles are hand drawn; I use Strathmore drawing paper, 9 x 12" medium surface, but any kind of paper will do, even printer paper. I usually start with a regular pencil, close my eyes, and just move it around on the paper, using my other hand to feel the edges of the paper. I usually sit up in bed, and have the drawing pad on my lap.

After I feel I'm "done" with the basic shape of the doodle, then I use a black ink pen to go over the pencil lines-- this is where I can add or change lines, thicken them, change the shape. Artist pens are expensive so I use black ink Precise V-7 fine or extra fine pens; you can find them in most grocery stores in the school supplies section. I like the fine/extra fine as it takes some time to make a thick line, as you have to go over and over it--it's part of the "doodle" process for me. Precise also comes in colors, if you prefer. If you erase some pencil lines (use an artist white eraser), it's best to wait a bit for the black ink to dry or else it smears.

After the inking is done on the basic "shape" then I add in the extra stuff, like small geometric shapes, circles, whatever--that's the "artsy fartsy part". As to the colors--I like Prismacolor colored pencils, as they are waxier than regular colored pencils and the color can be drawn in more "solid"--this is better if you're scanning the art into the computer in order to post it, as I do. Regular colored pencils can, of course, be used for doodle art but don't scan as well, looking washed out on the scan. Or you can use marking pens for color--I have a bunch of old Crayola and Rose Art marking pens, easy to find in the grocery store.

Inexpensive art supplies are fine; the purpose is not to make a masterpiece, or even a work of art, it's to calm and relax the mind by giving it something to focus on. Each doodle I do, as simple as they look, can take several hours to complete, and they're done slowly on purpose.



MORE Recent Art Blogs:

Art/Poetry: Rose-Heart-Mountain https://www.curezone.org/blogs/fm.asp?i=2434414

Doodling for Calm: https://www.curezone.org/blogs/fm.asp?i=2434401

Eco Art: Reflections of Nature: https://www.curezone.org/blogs/fm.asp?i=2432400

Eco Art: Books of Red: https://www.curezone.org/blogs/fm.asp?i=2431760




Add This Entry To Your CureZone Favorites!
Print this page
Email this page

Alert Webmaster