Eco Art: Book of Animals
This is the first time I've made a cloth art book.

Date: 12/18/2019 12:24:18 AM ( 4 y ) ... viewed 921 times
This project started out as an experiment. I had a piece of old white cotton sheet I'd been using for a rag; it had paint and glue on it from wiping my brushes. Wanting to see how dying it with tea would come out, boiling black tea was poured over the cotton rag in a metal pan, and left to soak for a few hours. Very pleased with the results, after the rag dried I tore it into pieces. Looking at the pieces, inspiration struck to use them as pages of a book. The pieces were not all of the same size, so some were folded up to make "pockets". The pieces were hand sewn together using embroidery thread to make the book.

The magazine images of animals used here were embellished with acrylic paint pens, primarily using "dots", to enhance the color. Each one was glued onto Rhimax paper to make them sturdier, and coated with non-VOC acrylic glaze. Initially all but one of the animal images were mammals (one bird); I wanted to make the book representative of some of the different classifications of animals on the planet so added images of a fish, invertebrates (represented by insects), reptiles, and amphibians. It wasn't until after the book was completed I became aware that some of the animal images have personal significance for me.



Some of the animal images were glued directly onto pages of the book; others sit loosely in the pockets. The animal pieces above are the ones placed in pockets; see below:





Front and back cover of the "Book of Animals" by mayah(c)2019: You can see the paint splotches from wiping brushes on the cloth. Brushes with glue were wiped onto the cloth; the tea didn't stain the glue patches so you can see white streaks of the original cloth.

Magazine images of flowers and butterflies. Butterflies symbolize death, transformation, and rebirth: the caterpillar "dies" from its original form, metamorphoses inside the cocoon, and is "reborn" as a butterfly.




Inside first pages--reptile and amphibian. I have a special love of reptiles, and think lizards and snakes are "cool"; along with birds, they are the living relatives and descendants of dinosaurs.

Salamander: Amphibians, who eons ago crawled out of their solely aquatic existence onto the land.




Giraffe in the pocket--reminds me of a trip I took to Zimbabwe in 2010; working with a traditional Shona healer, Mandaza Kandemwa, I felt a kinship and connection to Mambokadze ("Mother Earth" in the Shona language) that I hadn't felt so viscerally before.

Spirit Bear is one of my animal totems, representing power and strength, balance, and harmony.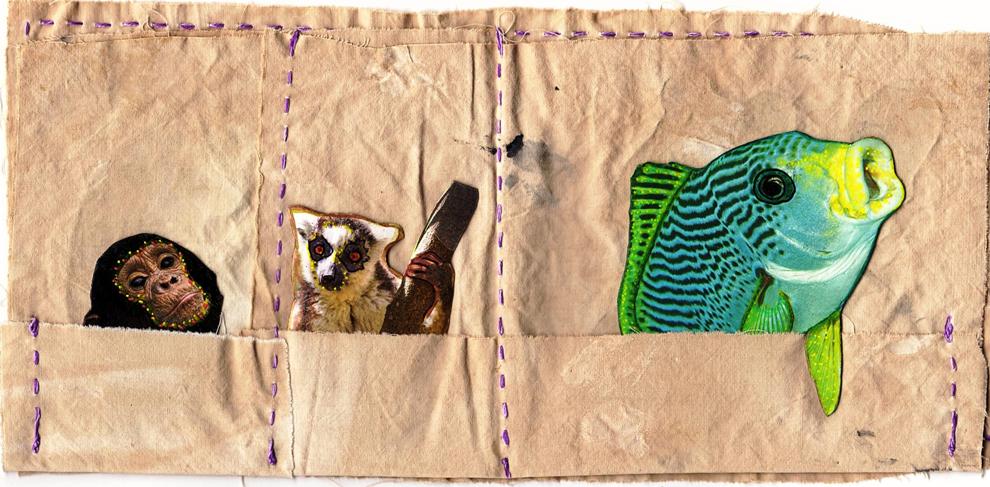 Chimpanzee and lemur in the pockets, both primates: we are more closely related biologically to primates than to any other animals on the planet. We share 99% of our DNA with chimps, and 93 percent with lemurs. If DNA makes humans kin to primates, what accounts for the vast differences between us?

Fish in the pocket, representing the denizens of the vast oceans of the world. " An estimated 50-80% of all life on earth is found under the ocean surface and the oceans contain 99% of the living space on the planet." While there are 226,408 known (classified by scientists) animal species in the ocean as of 2014, there may be as many as 25 million species total.




I don't know what it is about them, but I really love frogs. They also represent metamorphoses and change, developing from egg to tadpole to adult frog, and like other amphibians, are denizens of both the water and the land.

Rats, intelligent and communal mammals--not unlike humans--can be a pestilence, living in filthy conditions and transmitting disease. Yet they can also be adorable pets to humans. It reminds me of when I was an undergraduate in college (too many years ago) and had a job cleaning rat cages for the graduate students in psychology who were studying operant conditioning: the rats that were treated well by the human experimenters were docile, friendly, and easy to work with, in contrast to the rats that were disliked or even feared by their experimenters and were hostile biters. The rats' behavior--again not unlike humans--was definitely reflective of how they were viewed and treated.

I found this rat image to be quite ironic --this cute, domesticated and photogenic rat was being used in an advertisement for pest control services.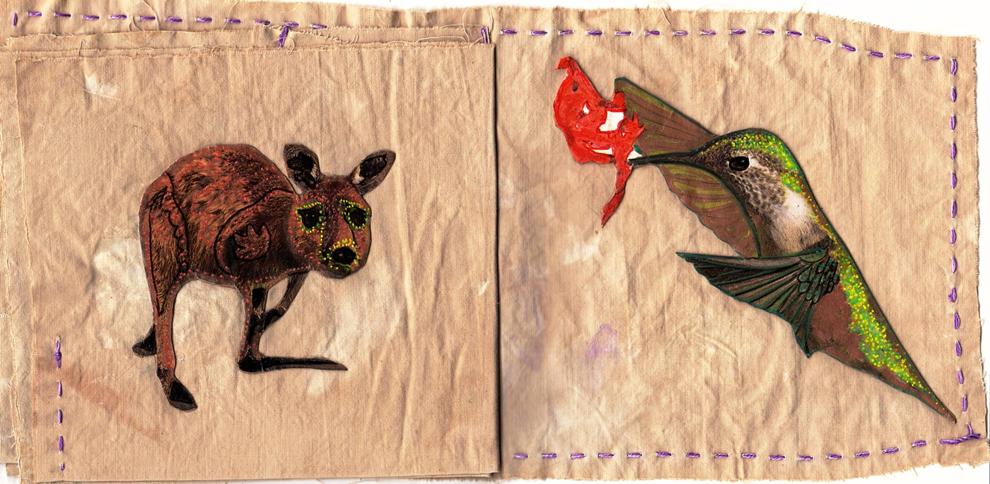 Hummingbird was the first animal image that I enhanced with acrylic dots. Hummingbird is another animal totem of mine, one symbolizing tenacity, endurance, pursuing our dreams, and finding love and joy in the simple things in life.

The last animal image that I worked on was kangaroo. It wasn't until I finished putting the dots and lines of acrylic on this image that I was reminded of the aboriginal art of the Australian continent where this animal lives: "Aboriginal peoples have used dots in art and other forms of expression for a very long time. Dots can be seen in symbolic patterns carved on artifacts and ancient rock galleries. They were used in sand paintings and in body painting for ceremonies". Dots can also be used to obscure sacred spiritual meaning in Aboriginal art that is not meant for the uninitiated observer.

I have a longing to visit this land of ancient spiritual beliefs. Science has recently proven that the Aboriginal peoples have had a civilization on Australia for almost 60,000 years.


"Eco Art by mayah" utilizes recycled and earth-friendlier materials whenever possible.


REFERENCES:

Non-VOC acrylic glaze: AFM Safecoat AcriGlaze http://www.afmsafecoat.com/products/clear-finishes/safecoat-acriglaze-gloss-and-matte

Rhimax paper: 100% post consumer recycled paper product: https://www.marylandpaper.com/products

Marine Life/Ocean Facts: https://marinebio.org/creatures/facts/

What is Operant Conditioning: https://www.verywellmind.com/operant-conditioning-a2-2794863

Dots in Aboriginal Art: https://www.aboriginal-art-australia.com/aboriginal-art-library/symbolism-in-australian-indigenous-art/

Earth's Oldest Civilization is the Aboriginal Australians: https://allthatsinteresting.com/aboriginal-australians-oldest-culture



MORE RECENT ECO ART BLOGS:

Eco Art Just for Fun: https://www.curezone.org/blogs/fm.asp?i=2428702

Doodle Art: "Leaves and Fire" https://www.curezone.org/blogs/fm.asp?i=2428557

Eco Art: Odds and Ends https://www.curezone.org/blogs/fm.asp?i=2428523

Bubble Wrap Creations: https://www.curezone.org/blogs/fm.asp?i=2428506

Flower Placards: https://www.curezone.org/blogs/fm.asp?i=2428505

Paint Palette Creations: https://www.curezone.org/blogs/fm.asp?i=2427416




Add This Entry To Your CureZone Favorites!
Print this page
Email this page

Alert Webmaster