ART:"UnderWater Fantasy"
At 3 feet by 3 feet, this is the largest mixed media piece I have made so far!

Date: 11/21/2018 12:59:15 AM ( 4 y ) ... viewed 1633 times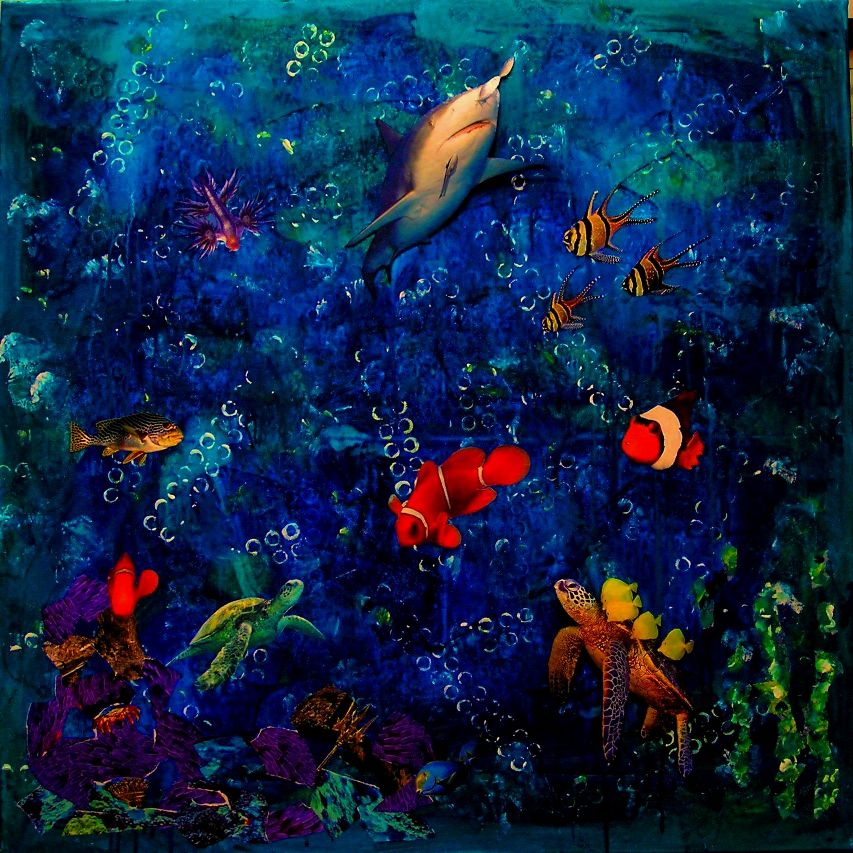 "Underwater Fantasy" Mixed Media by mayah (c)2018 36" X 36"
Canvas, acrylic paint, reused magazine/calendar images, tissue paper, Rhimax 100% recycled paper product,non-toxic glues and acrylic glazes


If you'd like to read on, here's the process of making this art piece:



I took a mixed media painting class in August 2017; this photo was taken by the instructor, Jacki Long, showing the beginnings of the work with painted/stenciled background on the large canvas. We used expired plastic credit-card sized gift cards to spread the paint on the canvas, which was much easier and faster than using a paint brush. The "stencil" used to make the white bubbles was a plastic holder for marking pens.

Next, old magazine/calendar images of marine life were added: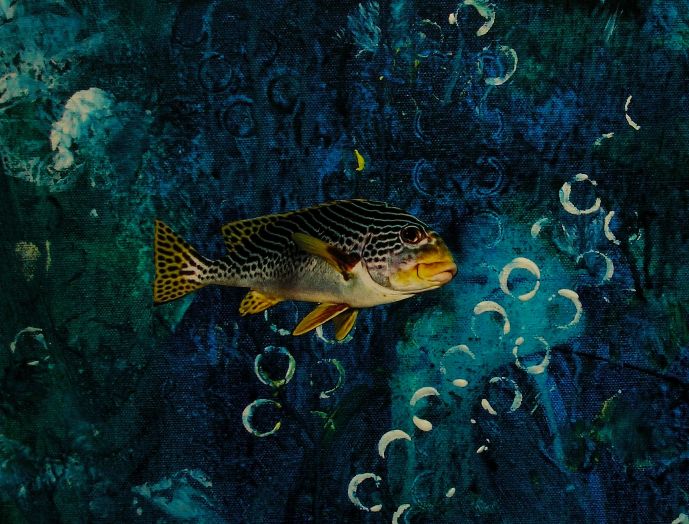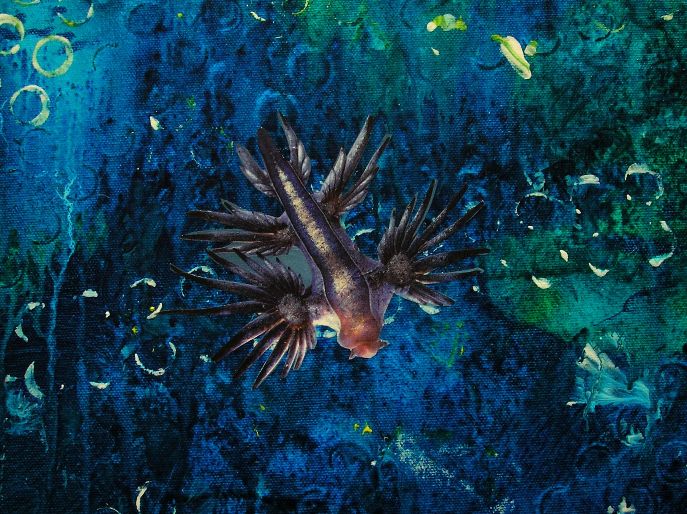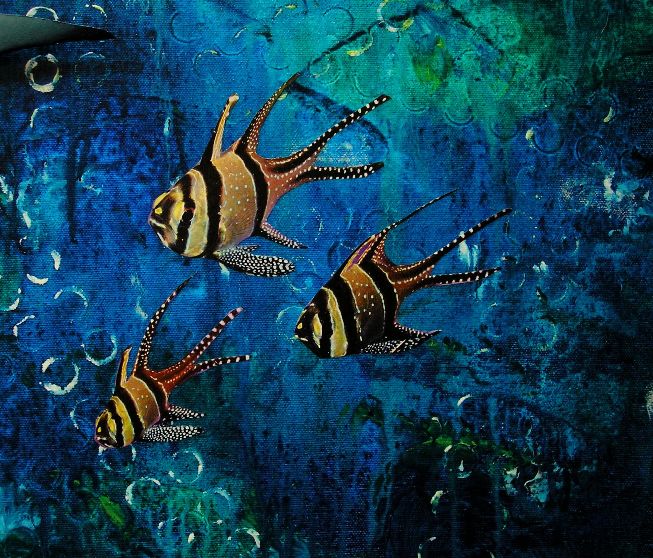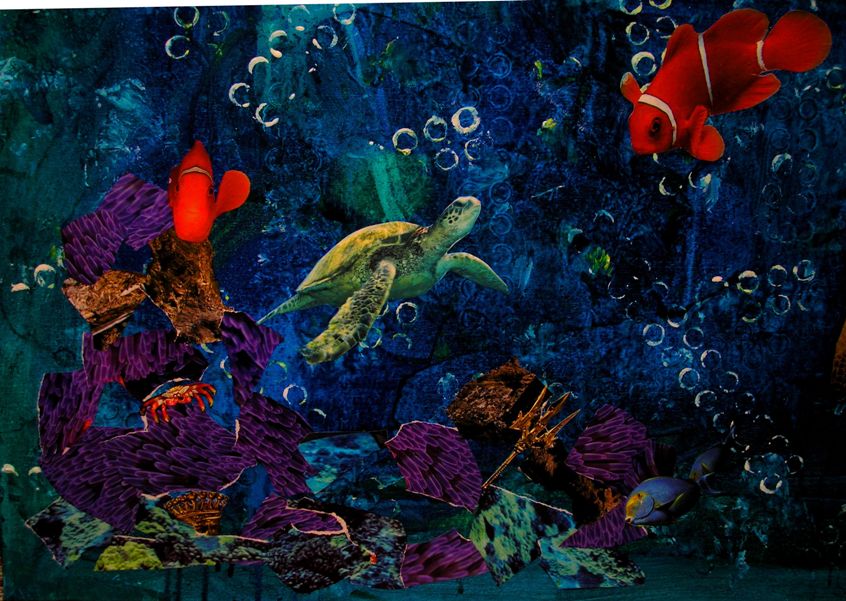 Lower left corner--collage coral reef, with more sea creatures added from magazine/calendar images. Notice the Poseidon (Greek God of the Sea) trident and crown among the coral.




Collage sea weed was made from painted tissue paper, cut out, and added to the right hand corner.

I took the art work home and didn't work on it for over a year, feeling it wasn't complete. Two large "left over" sea creatures had been cut out from old calendars, and I wanted to use them somehow. Just this past month, I decided to add them to the painting. Both the Sea Turtle and the Shark were glued onto thick Rhimax* paper and repeatedly coated with glues and acrylic glazes to thicken them, make them sturdier, and more flexible. They were then added to the art work for its final look. It's hard to see from 2-D photos, but both the shark and the sea turtle "stick out" from the canvas for a bit of a 3-D effect.



Tissue paper sea weed and sea turtle, lower right hand corner



shark, upper middle of canvas




*RHIMAX: "Rhimax is our durable, multipurpose paper that is made from 100% post-consumer waste paper... it is 100% biodegradable" https://www.marylandpaper.com/products



MORE Seascape Art:

EcoMaGs: Seascapes X 10 https://www.curezone.org/blogs/fm.asp?i=2416830

EcoArt: Under the Sea/Flowerscape https://www.curezone.org/blogs/fm.asp?i=2416747

Other Recent EcoArt:

Eco Art: "Lost Love" https://www.curezone.org/blogs/fm.asp?i=2416627

Eco Art:Altered Postcards https://www.curezone.org/blogs/fm.asp?i=2416618

EcoMaGs: Handmade 'Frig magnets: https://www.curezone.org/blogs/fm.asp?i=2416296

Doodle Art: Energetic Release https://www.curezone.org/blogs/fm.asp?i=2415866

Eco Art: Printer Magic! https://www.curezone.org/blogs/fm.asp?i=2415326



Add This Entry To Your CureZone Favorites!
Print this page
Email this page

Alert Webmaster