Download the Gift of Mischievous Laughter
Through January 31, 2018, download a Kindle or ePub copy of the award-winning book of humor and satire THE ANGEL'S DICTIONARY.

Date: 1/10/2018 10:26:27 AM ( 12 mon ) ... viewed 387 times
Sol Luckman
Today I'm writing with the great pleasure of offering readers the gift of mischievous laughter this New Year!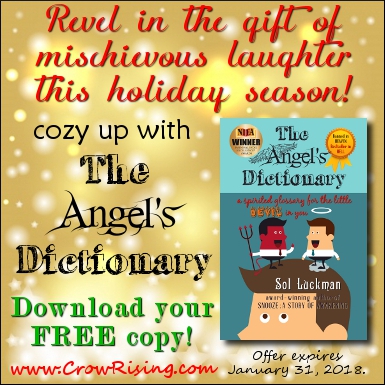 Through January 31, 2018, anyone over 13 can download a Kindle or ePub copy of the award-winning book of satire The Angel's Dictionary.

The 11th Annual 2017 National Indie Excellence Awards (NIEA) recognized this wickedly lighthearted lexicon as the winner in the category of Humor.
"Irreverent in its honesty and take-no-prisoners approach, The Angel's Dictionary: A Spirited Glossary for the Little Devil in You is an honest appraisal of words in terms of today's sensibilities. Sol Luckman has picked up where writers like Mark Twain and Ambrose Bierce left off over a century ago, identifying new associations for words and phrases to match what they really represent today […] They say many a true word is spoken in jest, and perhaps Luckman's humor is a well-timed wake-up call to be heeded while we still have time to ask important questions." Readers' Favorite
Here are some sample entries to tickle your fancy …

antidepressant: (n.) any of various energetic techniques for warding off parasitic friends, colleagues, and family members.


bathroom: (n.) where Americans go to argue about gender while the country goes down the toilet.

census: (n.) being counted so we can be discounted.

Dowist: (n.) blind believer in the stock market.

fanny-pack: (v.) to put on a few extra pounds during the holiday season.

global warming: (n.) result of excessive hot-air emissions by climate scientists.

hospital: (n.) where the healthy go to get misdiagnosed and the sick go to get mistreated.

To browse a selection of T-shirts and other merchandise featuring witty quotes from The Angel's Dictionary, click here.

To receive your complimentary copy of The Angel's Dictionary, visit …

http://www.crowrising.com/the-angels-dictionary

While you're there, please sign up to receive my Devilishly Clever Word of the Day in your inbox. Enjoy samples online here.

Thanks for reading—and have a joyful, healthful and prosperous 2018!

Sol Luckman

Add This Entry To Your CureZone Favorites!
Print this page
Email this page

Alert Webmaster