A Toast with Frey Wine
A Toast with Frey Wine.
My response to the fire on the Frey Ranch October 9 and Santa Rosa Fires.

Date: 10/10/2017 11:33:16 AM ( 4 mon ) ... viewed 652 times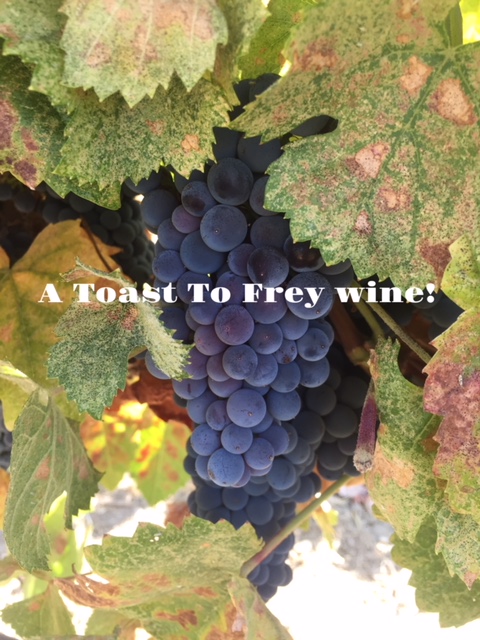 .
update October 18


We would like to share an update on Frey Vineyards. All of our family members and winery staff are safe.
Our beautifully rustic office buildings, tasting room, and bottling line have burned, but the main house and the insulated warehouse holding our case goods are unscathed. Our stainless steel wine tanks and the majority of the crush pad are also fine. Although vineyards typically don't burn, with the intensity of this firestorm we did lose about 10% of our estate vineyards along the peripheries of the ranch. In addition to the home ranch, we have 300 acres of satellite vineyards scattered throughout Redwood Valley and Potter Valley that are in great shape.
Fortunately, we broke ground two months ago for our new winery site on West Rd in Redwood Valley, and this land is untouched. We are mourning the loss of many of our grand oak trees that provided summer shade and a diverse wildlife habitat, but at the same time we are grateful that healthy stands of oaks are thriving at our new location.
We would like to extend a huge thank you to our long-time friends at Barra, Fetzer, and Parducci wineries who have offered their certified organic facilities for temporary offsite winemaking. This is an invaluable help. We are looking forward to being able to bottle more wine soon with the help of a mobile bottling line arriving in the first part of November. You'll be happy to know that we'll be able to fill the Frey wine pipeline before the holidays.
The Redwood Complex Fire continues to burn, but at the time of this writing it is 60% contained. We have deep gratitude for the teams of first responders who are working tirelessly to suppress the fire and keep all of us safe. Our hearts go out to our many, many friends and neighbors who lost their homes in this crisis, and we have continued concern for those whose homes and land are still at risk. In the last week we have seen a tremendous outpouring of support from our local community and beyond for everyone affected by the fire. To help, please donate to the Disaster Fund for Mendocino County.
While the winery has been described in the media over the past week as "demolished", we feel that this term doesn't apply to our resilient spirit to rebuild. We are so grateful to live in a rugged back-to-the-land community that supports each other and has a collective power for renewal.
We are profoundly saddened by the loss of life that has occurred and the destructive force that fire can wield. Juxtaposed against a scorched aftermath, we also recognize the essential role of fire in the Biodynamic cycle. As one of the four elements, along with earth, air, and water, it demands our respect for its regenerative powers. We are heartened to hear the consoling words of a friend whose farm withstood a devastating wildfire two years ago. She said that the following spring was the most beautiful display of wildflowers on their property that she had ever seen. We're looking forward to spring at Frey Vineyards.


my post day after the fire,oct 10



Dear Friends

Many of us in recent months have been touched by great grief, and have felt loss and a range of emotions in response to the distress of so many of our loved ones and/or have been personally involved in tragedy ourselves.

It appears to be a time of catastrophic events.

In my personal life, I was diagnosed with a Renal Carcinoma on Aug 7. But I was due to leave for my annual pilgrimage in two days time! What should I do?

Each year, since 2011, I have challenged myself to drive my 68 VW van thousands of miles to follow my passion.

I call this Journey The Enchanted Garden Mobile's Journey To Win Back Our Sacred Seeds,
I go to NorCal to support the #heirloomexpo, The National Heirloom Exposition that occurred this year sept 5-7, in Santa Rosa, CA.

So of course I chose to go anyway, bringing along an assistant, and made this my #CancerCureJourney.

This year we spent six weeks in NorCal, at least two of them at the idyllic, beloved and spiritually potent Frey Organic Winery and its companion Evening Primrose Biodynamic Model Farm.

When we returned home on September 20, it was time for High Holy Days, starting with Rosh Hashana.

The traditions within the Jewish faith have rich meaning for me even though I am very much eclectic in my spiritual path.

The subject of my Rosh Hashanah address / inspiration this year was "Life in the Barnyard." It was about the interdependent community of life.

Even now that I'm back at home, I am on a committed natural #CancerCure Journey. In spite of many physical symptoms during my six week trip, I was surrounded by loved ones and the opportunity to serve, and learn about the many natural remedies that have brought many people back to health.

Yesterday, Monday October 10, during the eight day Jewish Harvest festival called Sukkot, a time when traditional Jewish people are asked to eat outside in huts, I woke up to the traumatic news that 1500 homes in Santa Rosa, where we had just been, site of the #HeirloomExpo, had burned to the ground.

Later in the afternoon, I was shocked to hear that my Frey family were safe but that the homes and land that had offered me such blessed respite had also burned to the ground.

The Frey Winery is the oldest certified Organic winery in the United States. As such, the land and the wine and goodwill it has produced for many decades lives vividly in the hearts of thousands of people. This is a service oriented family of many brothers and sisters, each with parcels of independently owned property within the 2000 or more acres of shared land.

On the final day of my visit, I had the joy of doing ritual work and planting dreams on a nearby parcel of land where a new expanded Frey winery was already being built.

There were many fertile ideas in the air then, Including the projection, perhaps of my own creation, that the old property would become, in part, a retreat center, so that in the years ahead, many in need of healing of many kinds would come to regain their natural relationship, in a sacred environment where there are more trees than people,. An environment where the sounds of the barnyard and the safety of walking barefoot in nature, prevailed.

So where are we now in the cycle of holy days as I wrote this?

The harvest festival ended somewhere around Tuesday, October 11. Then immediately following csme the holiday of celebration, in which the final pages of the Torah, the holy document read each week, was read. The first chapter of the scroll is also read. This new chapter is called Genesis.

Genesis describes a return to innocence and the creation of life renewed.

I can only imagine a bright future for the Frey family. So many members of the family and friends are today in grief. They have been dislodged from the world that they knew.

I was personally walking around in grief and tears the day of the fire. I wasn't sure where I stood as I realized that farm animals that I had come to love were now gone.


I recall the path near the homes of Emily and Luke, and Molly, Daniel and Osiris, where a narrow plank bridge crossed over a ditch 6 foot deep with poison oak on either side.

Update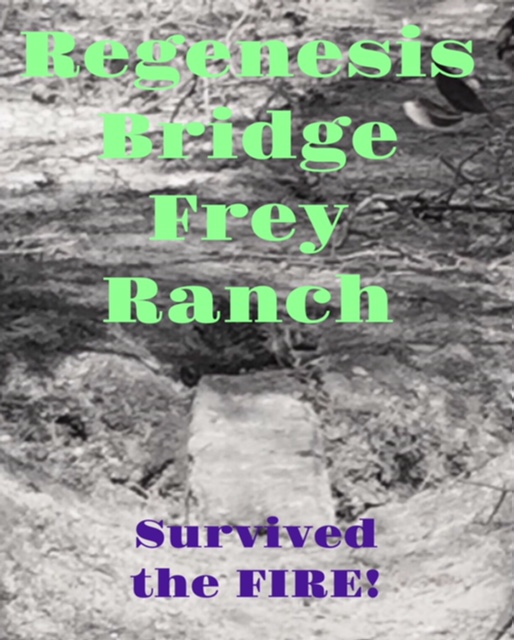 the Bridge survived! A friend of tge Frey Family sent me a picture some days after the fire.

Adrienne Prince, my companion, had held my hand to help me cross that narrow bridge to reach the pond, where we could hear frogs and walk barefoot.

I imagine that single plank bridge is now gone. How would I possibly get from one side to the other, without someone taking time to replace the bridge?

I envision this morning a new day for this land and for the family.

We cannot deny our grief, or our sense of loss of ground and all the decades of love and work that made the Frey land such a paradise.

There is still Frey organic/ biodynamic wine on the shelves throughout America and around the world.

I will see that land again.
I will use my capacities to join with others in the process of our new Genesis.

. . .

At last year's #HeirloomExpo, I met a Navajo weaver who told me that the way to end a drought was to dance and to pray.

I want to add that the way to end this Fire will be to sing, dance, pray and to offer a toast with Frey wine.

The human spirit is resilient.
Not hurricane,
Not drought,
Not fire
Or flood
Can defeat us.

More to say.
More to come.
Grapes will grow here again.

Leslie Goldman #YourEnchantedGardener #PlantYourDreamBlog

Katrina Frey
Emily Frey
Tamara Tamaqua Mimi Frey
Adam Frey
India Frey
Tommy Frey
Maria Frei

9:27 am
Oct 10, 2017


new Facebook page


This is a new FB Page I created October 10, 2017 to Comfort the Frey Family and all those grieving the loss from fire at the oldFrey Organic Wineery. The page will share photos from my healing journey on the Frey Ranch in Aug and Sept 2017. This page will share updates and actions we can each take to support the Regeneration of the land and America's first certified organic winery.

On the last day of my visit September 15, I visited the new site being built for the New Frey Winery located a few miles from the old winery site.

This page is dedicated to the resiliency of the Frey Family and to raise awareness of its contributions to organic and Biodynamic farming.

Friends of Frey Ranch Regenesis FB Page:

https://m.facebook.com/Friends-of-Frey-Ranch-Regenesis-898091197033802/

A Toast To Frey Wine!
http://www.curezone.org/blogs/fm.asp?i=2387111

#PlantYourDreamBlog written October 10.
Leslie Goldmannn
#YourEnchantedGardener #PlantYourDreamBlog




THIS WAS MY GIRST POST MONDAY, THE DAY OF THE FIRE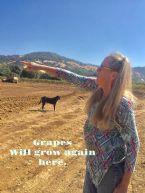 A very deep personal loss.
Frey Organic Winery burned today.
Much to feel.
I healed here less than a month ago.
Looked at the site of a new winery being built my last day here.
Planted dreams here.
Not much to say now.
Much to feel.
I toast what will become your
Resilience,
and say, Grapes will grow again here.

Leslie Goldman #YourEnchantedGardener #PlantYourDreamBlog

Katrina Frey
Emily Frey
Adam Frey
To All members of the Frey family and to all who love the Frey family.

October 10, 2017
5:10 pm

Photo: this photo was taken September 15 at the site of the new @Frey Organic Winery located a number of miles from the 2000 acre property. I have not heard yet how the new land fared.

3 am
Oct 10,
2017

##


Add This Entry To Your CureZone Favorites!


Alert Webmaster
---
---
---