Hello
I have had persistent watery BM's and some diarrhea for the last three weeks, this started from the moment I began taking Coral Calcium in an effort to alkalize my body (I am very acid and have been suffering many years with candida, leaky gut and pyroluria). These symptoms have been followed by sensations in my right upper quadrant, this lead me to consider possible detox effects of my program. The sensations are not there anymore but the BM symptoms are not gone yet. Lately, I have inspected the toilet and I have seen bloody mucus strings apart from the stools
Looking into the toilet bowl (not a pleasant task) to inspect further, I found something that could be described as weird looking debris floating on the surface of the toilet water, certainly not something that could resemble anything I have eaten. A bit shocked by the symptoms caused by ingesting the coral calcium, I realized that the stuff floating in the toilet could be parasites.
The stuff resemble this: (cotton balls with strings..)
http://curezone.com/ig/i.asp?i=31076
http://www.altcancer.com/oldam3.htm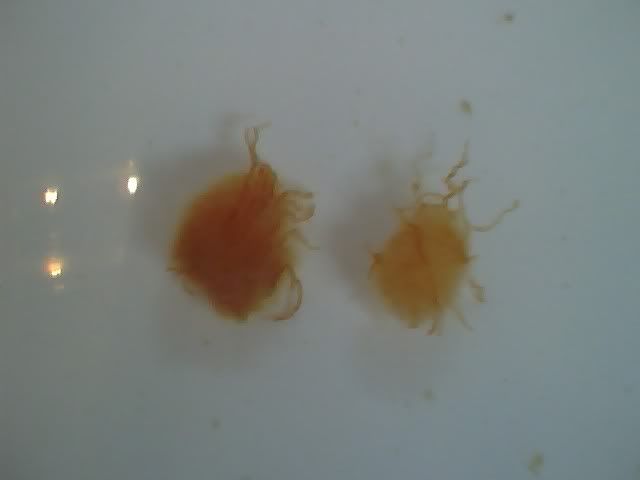 So my question goes -> Could raising pH by taking Coral Calcium and vitamin D cause parasites to die-off?
Should I be worried or take anti-parasite herbs or medications to be sure that all eggs and parasites are expelled and not doing any harm to my colon. Is there anything more I should do?
I am little bit worried since this is the first time I have seen my blood and mucus in my stool, is this a common symptom of parasite detox?
very Grateful for all help..